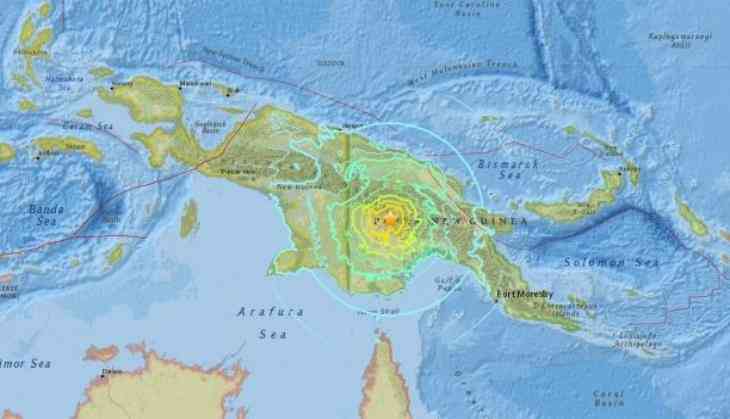 A powerful earthquake of 7.5 magnitudes disrupts forest villages and homes in central Papua New Guinness on Monday early morning, no immediate reports of injuries has arrived yet.
The officials were for detailed information about the damages that happened from the magnitude of 7.5 quakes and rattled about 89 kilometers southwest of Portugal in the Pacific Island nation.
Chris McKee, acting director of geohazards management for the Papua New Guinea government, said tens of thousands of people live in the forested highlands region affected by the quake. "There seem to be quite a few reports of the quake being felt strongly," he said. The area also is home to a number of oil and gas operations and coffee plantations, McKee said.
The mone official wrote on social media site Facebook about the plans to find out what caused power blackouts and other damages that happened after the earthquake in the whole area.
McKee said he expected to see more detailed reports of damage later in the day.
The area lies along an earthquake zone known as the Papuan Fold Belt, which is the fault responsible for the mountain range that forms the spine of the nation, he said.
The quake hit at a relatively shallow depth of 35 kilometers, and shallow quakes tend to be more strongly felt. A series of strong aftershocks had rattled other parts of the fault line, McKee said.
Many people in the region lead subsistence lifestyles and homes constructed with local materials would likely hold up fairly well, McKee said. More concerning was any heavy masonry used in industrial construction, he said.
The powerful magnitude also disrupted communications and oil and gas operations.
ExxonMobil Corp said it had shut its Hides gas conditioning plant, close to the quake's epicenter, to assess if there was any damage.
"All of ExxonMobil PNG Limited's employees and contractors at its Hides facilities have been accounted for and we are pleased to report they are all safe," ExxonMobil's PNG spokeswoman said in an email.
The Pacific Tsunami Warning Center in Hawaii said there was no danger of a tsunami in the aftermath of the quake.
Papua New Guinea sits in the Pacific's 'rings of fire', on the half of the island of New Guinea, to the east of Indonesia, with a population of 7 million people.