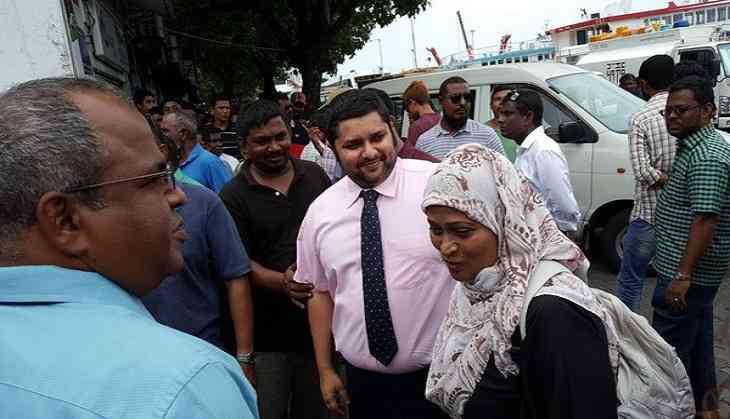 Political crisis in Maldives continues, demand for President's resignation grows (ANI)
Maldives capital Male continues to remain tense, with the opposition and general public unrelentingly asking President Yameen to step down and allow a new leadership to take charge.
The opposition, media, and others have confirmed that there are a heavy army and police presence at all key locations, including the Parliament and the Supreme Court, and that judges continue to remain in fear about their safety as long as President Yameen stays in office.
Rumours abound that the army and paramilitary forces could enter the Supreme Court premises during the course of the day and take the judges into their custody on the orders of the president.
In his defense, President Yameen had written letters to Chief Justice asking him to revoke his orders. The government has reportedly received information that the Supreme Court may issue orders to arrest President Yameen soon.
The people of Maldives, including the opposition leadership, are insisting that President Yameen designs for not following the apex court's orders. They feel he is corrupt, perpetrating misrule and is guilty of committing human rights abuses. Yameen, however, has denied these charges.
The President denies the allegations.
Eva Abdulla, a Member of Parliament told ANI, "He'd eventually have to capitulate, yes. Or resign".
When ANI asked Ahmed Mahloof, spokesperson of the Joint Opposition, as to whether President Yameen would abide by the court's orders, he said, "he won't".
Two Members of Parliament Abdullah Sinan and Ahmed Ilham were detained on Sunday, produced before a criminal court on Monday, and thereafter released.
Two dup were among the dozen former government lawmakers disqualified by the country's electoral watchdog over the Supreme Court's anti-defection ruling.
The reinstatement of the disqualified Members of Parliament, if achieved, would allow the opposition to claim that it is in the majority, and therefore, have the right to form the government post President Yameen's exit from office.
-ANI