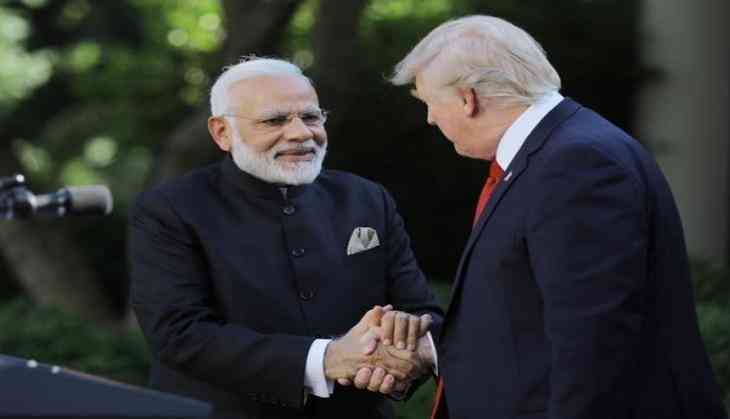 United States President Donald Trump and Indian Prime Minister Narendra Modi have pledged to deepen defense and security cooperation, building on the United States' recognition of India as a major defense partner.
The United States and India have agreed to work together on advanced defense equipment and technology at a level commensurate with that of the closest allies and partners of the United States.
Reflecting on the partnership, the United States has offered for India's consideration the sale of Sea Guardian Unmanned Aerial Systems, which would enhance India's capabilities and promote shared security interests.
Resolving to expand their maritime security cooperation, the two leaders announced their intention to build on the implementation of their "White Shipping" data sharing arrangement, which enhances collaboration on maritime domain awareness.
President Trump welcomed Prime Minister Modi's strong support for the United States to join as an observer in the Indian Ocean Naval Symposium.
Noting the importance of the upcoming Malabar naval exercise, the leaders determined to expand their engagements on shared maritime objectives and to explore new exercises.
As global nonproliferation partners, the United States expressed strong support for India's early membership in the Nuclear Suppliers Group, the Wassenaar Arrangement, and the Australia Group. President Trump reaffirmed the support of the United States for India's permanent membership on a reformed U.N. Security Council.
Earlier, Prime Minister Modi held delegation-level talks with President Trump in the Cabinet Room at the White House.
During the delegation-level meeting, the two leaders touched upon various topics ranging from purchase of military equipment to the bilateral relations between the two nations.
Trump struck upon the topic of purchase of military equipment, in reference to the recent F16 joint production deal.
"Thank you for ordering equipment from the U.S.. No one makes military equipment like the U.S.," he said.
Trump extended a warm welcome to Prime Minister Modi even as he, along with First Lady Melania, received him at the White House earlier in the day.
Heaping praise on Prime Minister Modi, Trump said he had been reading a lot about him and that he would want to congratulate him for the exemplary leadership he has shown, primarily, economically.
Prime Minister Modi, while thanking Trump for the warm welcome rendered to him, said the kind of welcome he was given, it was a welcome to the 125 crore people of India.
In marking 70 years of diplomatic relations between India and the United States, the leaders also resolved to expand and deepen the strategic partnership between the countries and advance common objectives. Above all, these objectives include combating terrorist threats, promoting stability across the Indo-Pacific region, increasing free and fair trade, and strengthening energy linkages. President Trump and Prime Minister Modi expressed confidence that, together, the United States and India will provide strong leadership to address global challenges and build prosperity for their citizens in the decades to come.
-ANI