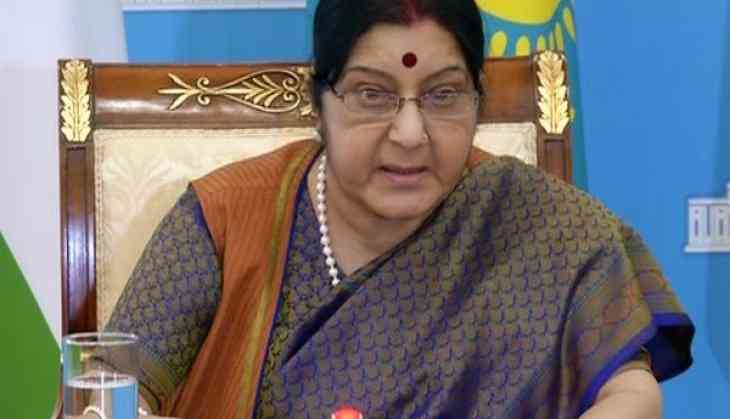 External Affairs Minister (EAM) Sushma Swaraj on Friday said that the flagship initiatives of the Narendra Modi-led government such as 'Digital India', 'Make in India' and 'Start-Up India' can boost business relations between India and Kazakhstan.
Addressing a joint presser with her Kazakh counterpart, Kairat Abdrakhmanov, Swaraj said, "Under Narendra Modi ji, many projects like 'Digital India', 'Make in India' and 'Start-Up India' have been started. These can be highly useful for digital developments in Kazakhstan. It can boost business relations between the two nations."
Swaraj added that she held extensive and productive talks on various fields with her Kazakh counterpart and spoke on bilateral, global and regional issues of mutual interest.
Stressing on the strong Indo-Kazakh ties, Swaraj stated, "Our relations are very cordial for a long time. Relations between India and Kazakhstan are built on the foundation of centuries-old historical and cultural ties. Both India and Kazakhstan have developed multifaceted cooperation in all areas of bilateral and multilateral relations and are strategic partners since 2009."
She said that India was keen to partner with Kazakhstan to explore markets for new products, diversifying from the trade in traditional products to bolster trade ties between the two nations.
The External Affairs Minister underlined that agriculture, food processing, energy, chemicals and medicine were some of the key sectors where India could be benefited.
Swaraj reiterated that India was one of the fastest growing economies in the world, adding that the country was a hub for manufacturing and innovation.
She implied that New Delhi was keen to extend connectivity in the Central Asian region to boost trade and tourism ties with Almaty.
She expressed happiness on the progress of the International North-South Transport Corridor (INSTC), an over 7,000 km-long multi-mode network of ship, rail and road route for moving freight between India, Iran, Afghanistan, Armenia, Azerbaijan, Russia, Central Asia and Europe.
Throwing light on enhancing people-to-people and tourism relations, Swaraj informed that the electronic visa system was introduced in February this year for Kazakh nationals arriving in India.
Talking of capacity building, Swaraj continued, "Kazakhstan's professional and students have been attending courses on scholarships in India every year under ICCR and the Indian Technical and Economic Cooperation programme in a wide range of disciplines."
Swaraj further said that India was keen to further strengthen cooperation in the defence sector with Kazakhstan.
She informed that the Kazakh armed forces underwent training on peacekeeping operations in India and an Indian Army's mobile training team was training their Kazakh counterparts in Almaty.
She invited her Kazakh counterpart Abdrakhmanov to visit India in the near future.
Before the joint statement, Swaraj met Abdrakhmanov and the Ministry of External Affairs (MEA) spokesperson Raveesh Kumar tweeted: "Strategic partners since 2009! EAM @SushmaSwaraj met Foreign Minister of Kazakhstan Kairat Abdrakhmanov. The two leaders had a comprehensive discussion on deepening cooperation in trade & investment, defence and security, energy, ICT, pharma, capacity building and culture @MFA_KZ," he wrote on the micro-blogging site.
On Thursday, Swaraj interacted with the Indian community in Astana and said that from the first Prime Minister of India, Pandit Jawaharlal Nehru to Dr. Manmohan Singh, nobody addressed the Indian community in other countries like the Prime Minister Narendra Modi-led government.
Swaraj is currently on a three-nation visit to Central Asia region. After Kazakhstan, she will be visiting Kyrgyzstan and Uzbekistan. This is her first trip to these countries as the foreign minister.
--ANI