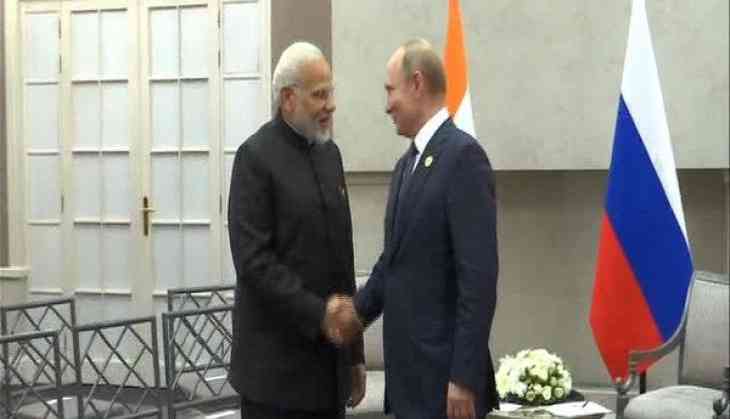 Prime Minister Narendra Modi met with Russian President Vladimir Putin on the sidelines of the BRICS summit here on Thursday (local time).
Recalling his earlier visit to Sochi, Prime Minister Modi opined that the friendship between India and Russia was moving forward.
"I'm happy to have this opportunity to meet you(Putin)again. I'll always remember my visit to Sochi, especially the time we spent together. I think this demonstrates that friendship between India and Russia is moving forward in all its closeness," he said.
The Prime Minister also congratulated Putin for successfully organising the FIFA World Cup 2018, adding that hosting the event "has given a boost to power and image of Russia.
Meanwhile, President Putin highlighted that trade between the two countries had risen by 24 per cent last year.
"We are getting ready to visit India in October. Our efforts were quite successful and our mutual trade continued to grow," he added.
Earlier in the day, Prime Minister Modi also met Chinese President Xi Jinping, Argentinean President Mauricio Macri and Joao Lourenço, the President of Angola.
The 10th BRICS Summit, as a milestone in the history of BRICS, was held under the theme "BRICS in Africa: Collaboration for Inclusive Growth and Shared Prosperity in the fourth Industrial Revolution".
The three-day summit began yesterday with the BRICS Business Forum Meet.
India signed MoUs in the fields of education, skill, health and agriculture with South Africa.
--ANI