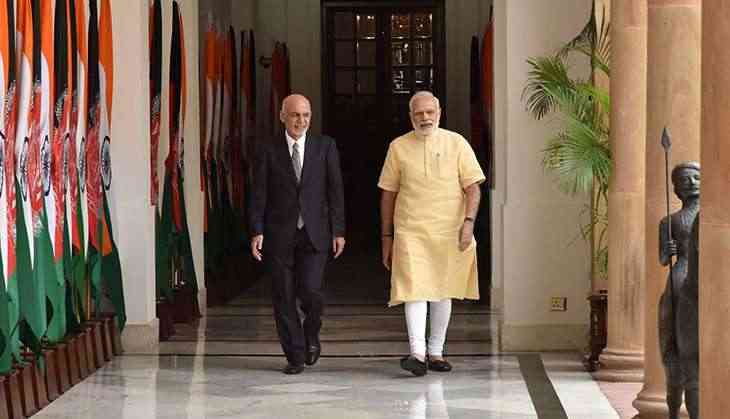 PM Modi and Ashraf Ghani discuss terrorism,
Prime Minister Narendra Modi in his meeting with Afghan President Ashraf Ghani discussed the current situation in Afghanistan, with specific reference to fighting terrorism and promoting peace, stability and reconciliation there.
According to sources, during the bilateral meeting on the sidelines of the Shanghai Cooperation Organisation (SCO) summit in Astana, the Prime Minister strongly condemned the recent spate of terrorist attacks in Kabul and other parts of Afghanistan.
He also expressed India's sincere condolences on loss of hundreds of innocent lives and injury to several more.
Both leaders agreed that India's entry to the SCO as a full member today would promote closer cooperation within the body, including on one of the main priorities of the organization- fighting terrorism.
Today, Prime Minister Modi also held bilateral meetings with other leaders including Chinese President Xi Jinping and Uzbekistan President Shavkat Mirziyoyev.
India has been an observer of the SCO meeting since 2005. By becoming a full SCO member, India now stands to gain in the spheres of security, economy, trade, investment, connectivity and energy co-operation.
Along with India, Pakistan has also joined the SCO as a full member state. Other members are: Russia, China, Kazakhstan, Kyrgyztan, Tajikistan, and Uzbekistan.
The SCO was set up in 2001 with the goal to foster security and co-operation between the member nations. Over the years the organisation has expanded its focus to include areas related to economic co-operation.
-ANI