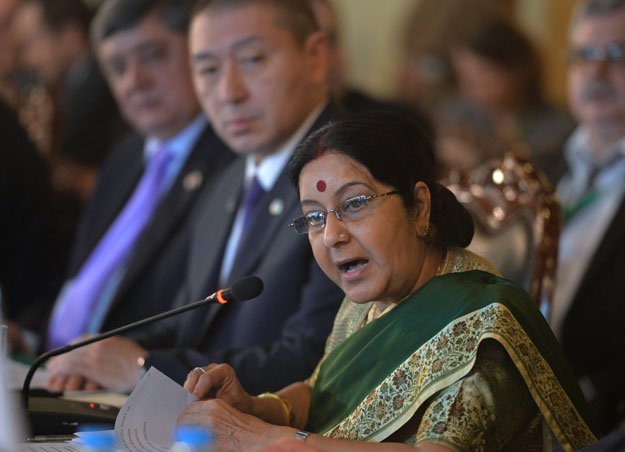 A Pakistani Joint Investigation Team will arrive in India on 27 March to probe the 2 January Pathankot terror attack, External Affairs Minister Sushma Swaraj announced today after discussions with her Pakistani counterpart Sartaj Aziz.
The Pathankot terror attack was discussed in the over 20-minute meeting between Swaraj and Aziz - the first political-level engagement between the two sides after the 2 January attack. India has been urging Pakistan to take action over the brazen assault on the key Indian Air Force base.
Swaraj also accepted Pakistan's invitation for Prime Minister Narendra Modi to visit Islamabad for the SAARC Summit to be held on November 9-10 this year. In a joint media address with Aziz - after discussions on the sidelines of the SAARC ministerial meeting in Nepal - Swaraj said:
"We talked on Pathankot also and I am happy to say that the dates of the visit of Joint Investigation Team (JIT) have been fixed. They will reach India on (March) 27th night and will begin their work on 28th."
She also said it was not possible to not discuss Pathankot during her meeting with Pakistan Prime Minister's Advisor on Foreign Affairs Aziz. Asked if the JIT would visit the Pathankot air base, government sources said the modalities of the visit will be worked out in the coming days.
"Calls were made to both capitals and the dates were fixed," a source said.
On his part, Aziz complimented the way the Pathankot issue was handled and the cooperation extended on both sides. He hoped that this cooperation would pave the way for "good results".
Aziz also hoped that Modi and Pakistani premier Nawaz Sharif will meet in the US on 31 March, on the sidelines of the Nuclear Security Summit in Washington. "Not sure whether there will be structured dialogue but hopeful that they will meet," Aziz said.
Complementing the conducive environment in which the SAARC meeting was held, Swaraj said, "Some issues which were unresolved between our two countries (India and Pakistan), we have taken a decision on them in a very positive manner." However, it was not clear what issues she was referring to.
-- PTI