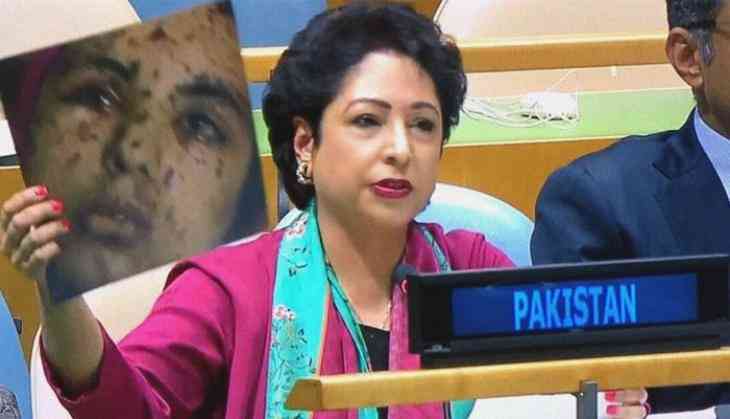 A day after India's External Affairs Minister Sushma Swaraj ripped apart Pakistan at UNGA, Pakistan's Permanent Representative to the United Nations Maleeha Lodhi has made a major goof up after showing a fake image of a "pellet gun victim" in the UN General Assembly.
Maleeha Lodhi resorted to waving dramatic pictures of a girl with pellet injuries on her face and added, "this was the face of Indian democracy", while suggesting that Kashmiris had been injured by pellet guns.
However, upon closer inspection of the picture, Maleeha Lodhi's claim seemed to have boomeranged on her.
The picture used by Pakistan's Ambassador to the UN was reported by a number of media outlets as that of Rawia Abu Joma'a, a 17-year-old girl injured in Israeli airstrikes on Gaza city in 2014. Rawia's picture was taken by award winning photographer Heidi Levine.
Here is how people on Twitter slammed Lodhi:
Look pakistan is exposed whn they put Gazan woman photo as Kashmiri victim. Shame on Pak. #LairPak

— Tejas N (@nandedkartejas) September 24, 2017
@UN should expel Pakistan for lying on the floor & bringing disrespect with blatant lie.

— Dr. Tapan K Mohanta (@mohantatapan) September 24, 2017
This picture belongs to siriya. Go back and complete your home work. Picture of 2014
Het well soon

— SANDEEP ANAND (@shreejayraj) September 24, 2017
WHAT YOUR REPRESENTATIVE IS DOING IN UNGA, WORLD IS WATCHING CLOSELY. WHAT PAKISTAN IS DOING, IT'S CLEAR NOW. REAL PIC BUT IN WRONG CONTEXT. pic.twitter.com/Sda7BGTdje

— ARKA CHAKRABORTY (@debarka2009) September 24, 2017
Aww... so cute Pakistan. But as they say, you need brains to even copy ! The picture published in a @nytimes piece in 2014 ! pic.twitter.com/V7AV7vk4dy

— Bindesh Pandey (@bindeshpandey) September 24, 2017
Why dont u take China's help to learn how to copy and represent a fake as original. Just remember ur ministries are good at nothing.

— Rob (@rexrocky37) September 24, 2017
Earlier on Saturday, Swaraj had said India has risen despite being the principal destination of Pakistan's nefarious export of terrorism.
"India has risen despite being the principal destination of Pakistan's nefarious export of terrorism. There have been many governments under many parties during 70 years of Indian freedom, for we have been a sustained democracy. Every government has done its bit for India's development. We have marched ahead consistently without pause, in education, health and across the range of human welfare. We established scientific and technical institutions which are the pride of the world," Swaraj said while addressing the 72nd UNGA session in New York.
She also questioned as to what has Pakistan offered to the world and to its own people apart from terrorism.
In a stinging response to Pakistan at the UNGA, she said that India is completely engaged in fighting poverty, whereas Islamabad seems engaged in fighting New Delhi.
-With ANI inputs.