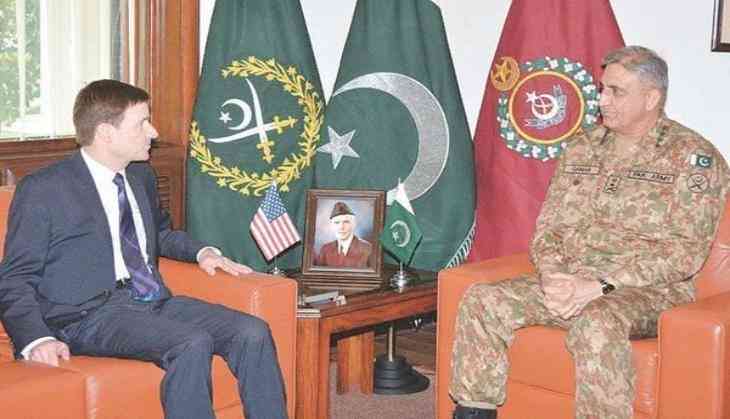 United States Ambassador to Pakistan David Hale has reminded Islamabad again about its commitment and pledge to continue its fight against terrorist groups reportedly operating from its soil.
In an interaction with Pakistan's Chief of Army Staff General Qamar Javed Bajwa at the General Headquarters in Rawalpindi on 22 may, Ambassador Hale was quoted by the Dawn as saying that he hoped Islamabad would live up to its pledge of not allowing terrorists to use its soil against any other country.
He also called for greater bilateral cooperation between the two countries to facilitate and ensure peace and stability in the region.
The missive from the American envoy is being seen as a follow-up to U.S. President Donald Trump calling on Muslim countries to make a combined effort to defeat terrorism during a speech at the Arab-Islamic-American Summit in Riyadh earlier this week.
The Inter-Services Public Relations (ISPR) said in its statement,"COAS (Gen Bajwa) reiterated Pakistan's stance that its soil is not being used for terrorist activities against any other country nor shall we tolerate any such action against Pakistan."
Ambassador Hale's meeting with General Bajwa also comes ahead of the NATO Summit in Brussels on 18 may. President Trump is expected to unveil his administration's policy on Afghanistan at the summit, which could include an increase in the numbers of American troops deployed in that country.
Afghanistan currently has 8,400 U.S. troops. It is widely speculated that President Trump could add another 3,000 - 5,000 in a bid to break the stalemate in the war in Afghanistan.
The announcement could also see a change in the role of the troops deployed in the war-torn country.
U.S. and NATO troops are currently on a non-combat mission for advising and training the Afghan Army, but they could get a combat role under the new policy.
The U.S. Embassy said: "Ambassador Hale thanked General Bajwa for his public commitment on May 18 that Pakistan is taking measures to ensure that militants do not use Pakistan's soil to conduct attacks against any country. In this vein, during their meeting General Bajwa offered renewed assurances that Pakistan would not permit its territory to be used to plan or conduct attacks against Afghanistan."
The U.S. Embassy noted that both Ambassador Hale and General Bajwa "reiterated their nations' commitment to a secure, stable, and prosperous Afghanistan".
-ANI