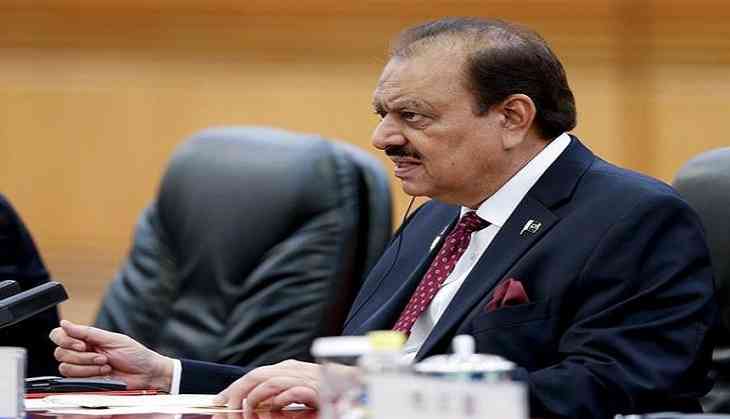 Pakistan President Mamnoon Hussain has reportedly pardoned five Military-Rangers personnel, who had been sentenced to life imprisonment over their involvement in killing of a youth inside a public park in Karachi in June 2011.
"President of #Pakistan pardoned all 5 officers & soldiers of Military-Rangers involved in June-2011 cold blooded yet unprovoked murder of Sarfaraz of Pakistan-occupied-#Kashmir," said Senge H Sering, Washington DC-based activist on twitter.
Most Americans think aid-cut to #Pakistan won't change its terror-policy & PAK just proved them right.
Yest'day, Chief Minister KPK, Pervez Khattak, hosted an event with prominent terror-sponsors where #HafizSaeed spoke & called for fresh attacks on Indiahttps://t.co/PWrDs8Gpnr

— #SengeHSering ས།ཚ། (@SengeHSering) January 8, 2018
Sarfraz Shah was shot dead by the Rangers personnel and left to die inside the park.
The fatal shooting sparked widespread public outrage after the footage of the killing, filmed by a cameraman from a private TV channel who was at the park to cover an event, was later aired by all news channels.
According to The Express Tribune, an anti-terrorism court on August 12, 2011, had sentenced Rangers constable Shahid Zafar to death and life imprisonment to five others, including Sub-Inspector Bahaur Rehman, Lance Naik Liaquat Ali and constables Muhammad Tariq, Manthar Ali and Afzal Khan.
The park's watchman, Afsar Khan, was also jailed for life in the case, The Express Tribune reported.
However, the Pakistan Supreme Court had, in 2014, commuted the death penalty awarded to Shahid Zafar into life imprisonment and retained the punishment of others.
--ANI