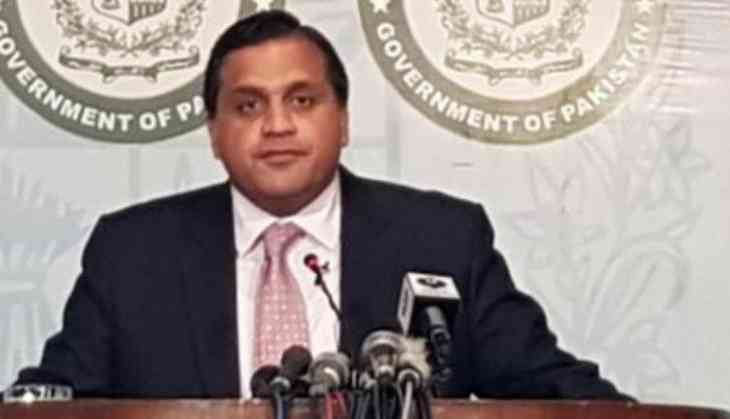 Pakistan foreign ministry spokesperson Mohammad Faisal's personal Twitter account suspended. According to ARY News reports, the account was blocked after a complaint by Indian authorities. Mohammad Faisal's was keeping his social media followers updated by tweeting about "Indian atrocities" in Jammu and Kashmir and the hearing of the Kulbhushan Jadhav case at the International Court of Justice (ICJ), reported Express Tribune.
However, the Pakistan foreign ministry's official account (@ForeignOfficePk), which bears Mohammad Faisal's name, remains active.
مزید تفصلات کے لئے لنک پر کلک کریں: https://t.co/h07p8U8Xhx#ARYNewsUrdu #Twitter #MinistryofForeign #MohammadFaisal pic.twitter.com/0lmlPVGTVk

— ARY News Urdu (@arynewsud) February 19, 2019
Faisal in the most recent tweets on his personal page wrote that Members of the European Parliament called for an end to "gross human rights violations" in Jammu and Kashmir, and said the EU "should not do trade with countries that violate Human rights".
Meanwhile, Pakistan foreign ministry's spokesperson has not yet used his active account to comment on the suspension of the other.
The relation between India and Pakistan was already sour and has now worsened after the Jaish-e-Mohammad led suicide bomber attack on CRPF convoy in Jammu and Kashmir's Pulwama district last Thursday, killing over 40 CRPF soldiers.
On Tuesday, Pakistan PM Imran Khan defended his country by saying they have a role to play in Pulwama attack in a televised address broadcast and threatened to retaliate if India attacked. He also asked India to investigate the matter and assures to take needed action if anyone found involved in the attack.
Also read: UN chief calls India-Pak to take 'immediate steps' on Pulwama attack to de-escalate tensions