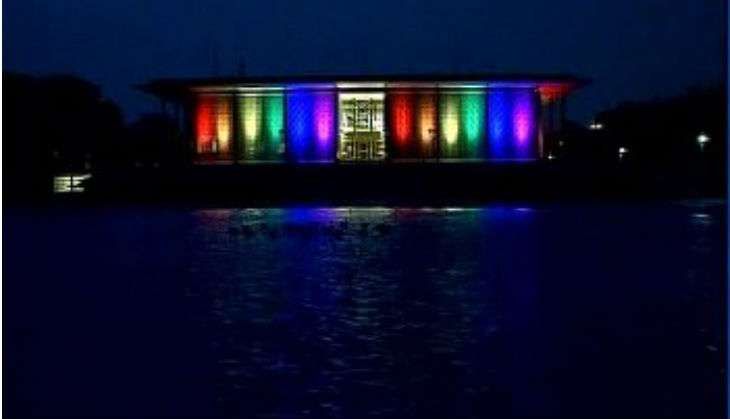 The Embassy of the United Stated of America in New Delhi was lit up in the iconic rainbow colours of the LGBT movement on 13 June as a tribute to the victims who were massacred when a gunman opened fire at a gay nightclub, in Orlando killing almost 50 people.
"We express our sincere and heartfelt condolences to the families and loved ones of those who were brutally massacred in the Orlando, Florida nightclub attacks on Sunday 12 June. The US stands firmly by the principles of equality for all, including for members of the Lesbian, Gay, Bisexuals, Transgender and intersex community worldwide," Deputy Chief of Mission Michael P Pelletier said.
Quoting President Barack Obama, he said 'in the face of hate and violence we will love one another. We will not give in to fear' adding that it was in this spirit, that the US Embassy will raise the rainbow flag along with American flag, once the American flag is raised full staff, following the mourning period of the victims of the Orlando attack.
Asserting that the fight for dignity and equality for LGBT people, is reflected in the tireless dedication of allies who work for a more inclusive society, Pelletier added that this 'Pride' month the US recommits to bending the arc of their nation towards justice.
President Obama described Sunday morning's gun attack as "an act of terror and an act of hate" and said that the nation grieves the horrific massacre of dozens of innocent people.
"This is a sobering reminder that attacks on any American - regardless of race, ethnicity, religion or sexual orientation - is an attack on all of us and on the fundamental values of equality and dignity that define us as a country. And no act of hate or terror will ever change who we are or the values that make us Americans," he said.
The Islamic State has called the Orlando gunfire attacker "one of the soldiers of the caliphate in America."
Al-Bayan Radio, a media outlet for the IS extremist group, on Monday hailed the attack that left 50 people dead, saying it targeted a gathering of Christians and gays and that it's the worst attack on US soil since the 11 September, 2001, terrorist attacks.
Omar Mateen (29) opened fire at the crowd present at a gay nightclub in Orlando early Sunday. He killed 53 people and wounded several others before getting killed in a shootout with the police.
--ANI