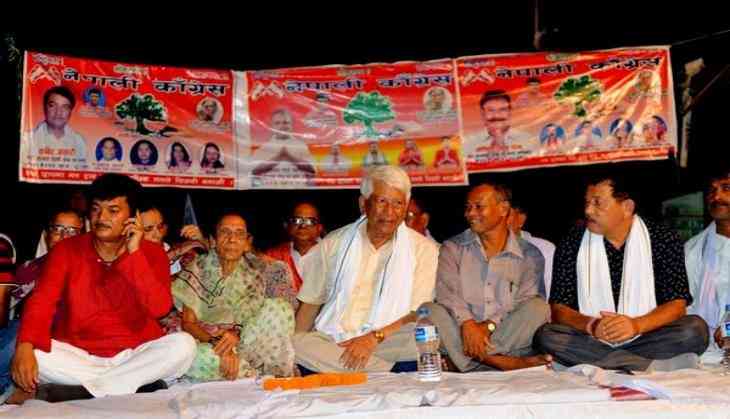 Nepali Congress leader during election campaign in Province no. 2 (ANI)
Amid the final stage election campaign in the province no. 2 of Nepal, the political temperature has gone high in the district headquarters of Rautahat as the vehicles, the walls in the public sphere, the poles and the main chowk of the city are all stalled with flags of different political parties.
Province no. 2, which will go for polls next Monday, is heating up amongst the political parties as well as the actual weather, which is not less than 20 degree Celsius every day. Every resident has their own expectations from the candidates, who are over 20,000 in number.
"One who works for the development and upliftment of our village and society, who can provide the basic facilities of health and education to the people, and also who can make good governance, I will vote for them," Nivesh Kumar, a voter of Gaur, Rautahat said.
It is also the homeland for agitating Madhesh-based parties and equally important for major political parties as it is the vote bank and chance to rise in the Nepal politics, if they manage a victory over here.
But some of the voters are pitching for some changes this time as they want something different in the political sphere in their locality.
"The leaders should take initiative to develop the country. The voters also should choose the candidates wisely, who can make positive changes in the society and the voters also should choose the leaders who can make the people feel the change within their five years tenure," Amit Yadav, another voter in Rautahat, Province no. 2 said.
Province no. 2, which will have the final rounds of the local polls on September 18, which will elect 6,627 out of over 20,000, who will be contesting in the elections.
The Southern Plain of Nepal, which witnessed a marathon protest in 2015 and various political uprising over a period of time, is prone to violence during the election, but the Chief District Officer (CDO) has highlighted other challenges, along with the security, especially from the underground groups.
"The underground groups are not the only security challenge; there are others too. We have enlisted the challenges as manuscript and have prepared the task force according to it to foil the attempts. We will be deploying security personnel according to our plans and we are committed to provide security as per that," Chief District Officer of Rautahat, Uddhav Bahadur Thapa told ANI.
As per the security plans, the election booth will have three rounds of circle to ensure security to the voters as well as the polling station for Monday. The final round of elections will elect representatives in 136 local levels in Province no. 2 having one metropolitan city, three sub-metropolitan cities, 73 municipalities and 59 rural municipalities.
-ANI