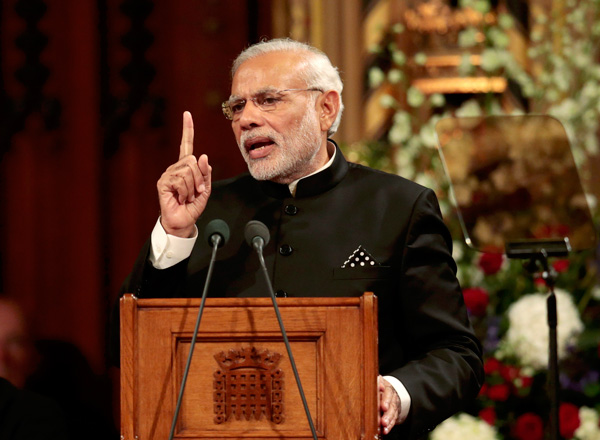 India expects to conclude a 'strategic partnership' with Singapore during Prime Minister Narendra Modi's visit to the South-East Asian nation where he would also meet top CEOs and address the Indian community.
Modi will be in Singapore on November 23-24 on a bilateral visit, during which he is also expected to sign an enhanced defence cooperation pact, along with other MoUs including on cyber security, culture and training on urban management.
Briefing the media about the visit, Secretary (East) with the Ministry of External Affairs Anil Wadhwa said Singapore has approximately 3,50,000-strong Indian diaspora out of its total population of 5.5 million.
The bilateral trade with Singapore is about USD 17 billion and Singaporean companies are very active in India since early 1990s, including in equity markets.
"Singapore has emerged as the second-largest source of FDI into India at about USD 35.9 billion (total for April 2000 to June 2015), which is about 13.9 per cent of total FDI into India," Wadhwa said, while adding that Indian investments into Singapore are also fairly large at USD 37 billion.
"Singapore has a strategic location with status as a financial, aviation and maritime hub. The flow of investments, presence of a large Indian diaspora and its expertise in urban development and skill development make it a very valued partner for India.
"During the visit, we would conclude a strategic partnership with Singapore, along with further strengthening of our defence relationships," Wadhwa said.
The focus of the visit will also include '5-S plank' of scaling up trade and investment, speeding up connectivity, smart cities, skills development and state focus.
"Also, an enhanced defence cooperation agreement is likely to be signed, along with some other MoUs on cyber security, culture, training on urban management etc," he added.
Asked about the CEOs he will be meeting in Singapore, Wadhwa said the list is still a work in progress.
To a question about whether an orchid would be named after Modi during his visit, Wadhwa said, "The orchid naming ceremony is not on the schedule any longer. It was being talked about earlier, but due to paucity of time, we had to forgo that. That will not happen (now)."
Separately, the officials sought to downplay the reports about Singapore government restricting the participation at Modi's community event to only those with Indian passports.
Officials said the event organisers have put in place a system under which people need to register and those having registered themselves would be attending. The organisers have named the event 'Namo in Singapore' and would include a nearly three-hour cultural show before Modi's address.
-PTI