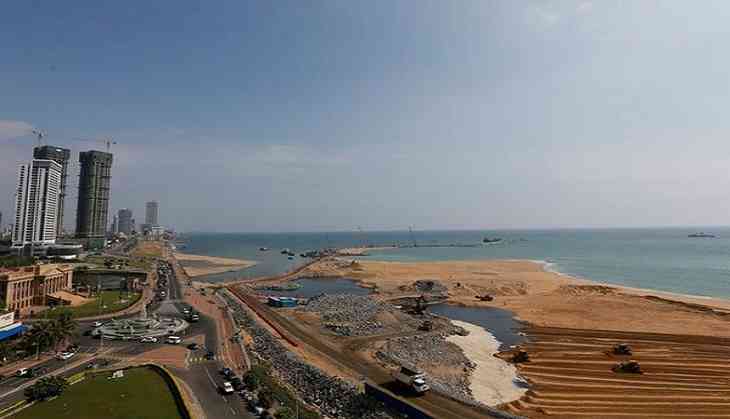 China's naval ambitions in Sri Lanka received a jolt when Colombo rejected Beijing's request to dock one of its submarines in the nation's capital.
A senior Sri Lankan government official has said that China's request to dock one of its submarines in Colombo this month has been rejected and it is "unlikely" that the government would agree to China's request to dock the submarine at any time ,given India's concerns, the Colombo Page reported.
This decision by Sri Lanka shows that Indian Prime Minister Narendra Modi's visit is successful as he arrived in Colombo Thursday afternoon for a two-day visit to the country.
India has been raising concerns about Chinese military influence in strategically important Indian Ocean Region since 2014 when Sri Lanka had permitted China to dock its submarine in the capital of Colombo.
India has also expressed its concerns over Sri Lanka finalizing to lease 80% of its loss-making Hambantota port to China for 99 years .But trade unions are also opposing the deal.
China has invested heavily in the infrastructure projects like roads, railways and ports in Sri Lanka.
Prime Minister Modi was accompanied by his Sri Lankan counterpart Ranil Wickremesinghe to the temple.
Seema Malaka or the Gangaramaya Temple is a Buddhist temple constructed in the middle of the Beira Lake and the design was inspired by the ancient monasteries in forests of Anuradhapura and Ritigala.
Following the temple visit, the Indian Prime Minister will attend a private dinner with Sri Lankan President Maithripala Sirisena at 'Temple Trees', the latter's official residence.
On the second day of his visit, Prime Minister Modi will deliver a celebratory address at the Bandarnaike Memorial International Conference Hall (BIMCH) on the occasion of International Vesak Day.
-ANI