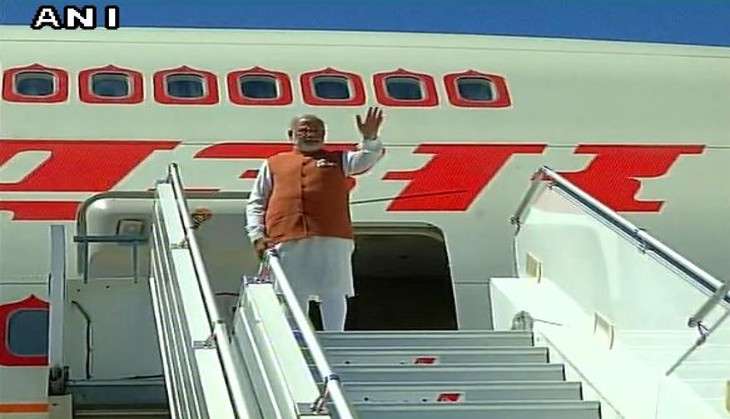 PM Narendra Modi left for Washington after holding delegation-level talks with Swiss President Johann Schneider-Ammann in Geneva today. The US visit will be the fourth leg of Modi's five-nation visit including Afghanistan, Qatar, Switzerland, US, and Mexico
Both sides (India and Switzerland) are expected to have discussed issues of mutual interests, including trade investments, energy and infrastructure sectors, besides India's membership in the Nuclear Suppliers Group ( NSG). Modi also held meetings with top Swiss business leaders and highlighted the strong economic ties between the two countries.
"Held detailed discussions with Swiss CEOs. Glad that economic linkages between our nations are strong & vibrant," the Prime Minister tweeted.
Prime Minister Modi also informed the business leaders that Switzerland can play a vital role in India's development.
Discussions on the issue of black money have also reportedly taken place between the two leaders.
Earlier, Prime Minister Modi and the Swiss President had restricted talks to further elevate the bilateral ties between the two sides to the next level.
Before leaving for the US, Prime Minister Modi also met Indian students and scientists from the European Organization for Nuclear Research, known as CERN, in Geneva.
India and Switzerland have had cordial and friendly relations since India's independence. Exchange of high-level visits in the recent past has provided an impetus to strengthen bilateral cooperation.
With growing bilateral trade and foreign investment, India and Switzerland enjoy strong economic ties.
Swiss-India bilateral trade nearly tripled from USD 1.6 billion in 2004 to USD 4.5 billion in 2011 even as the balance of trade has remained in favour of Switzerland.
From April 2000 to September 2015, Switzerland invested as FDI approximately USD 3.18 billion in India, thus becoming the 11th largest investor and accounting for about 1.2 % of total FDI in India during this period.
--ANI