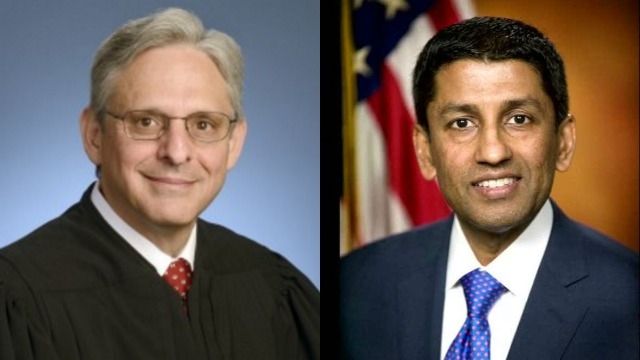 As US President Barack Obama appoints 63-year-old Merrick Garland over Indian-origin hopeful 49-year-old Sri Srinivasan as Supreme Court judge, here is all you need to know about the man who made it, and the one who didn't.
Merrick Garland
Born: November 13, 1952 in Chicago, Illinois
Education: Grad honors from Harvard University and Harvard Law School
Work: Clerked for Judge Henry Friendly and Justice William Brennan.
Editor for The Harvard Law Review.
Assistant to United States Attorneys, high-level aide to Attorneys General.
At the Justice Department, he oversaw two of the biggest domestic terrorism cases in US history.
Currently: The chief judge of the DC federal appeal.
Trivia: Also a finalist for the first two Supreme Court vacancies Obama filled.
Sri Srinivasan
Born: February 23, 1967 in Chandigarh as Padmanabhan Srikanth Srinivasan
Education: Graduated from Lawrence High School, bachelor's from Stanford University in 1989.
Earned a Joint Degree in MBA in 1995 from Stanford Law School and the Stanford Graduate School of Business.
Work: Worked for the law firm of O'Melveny & Myers. Later worked as their hiring partner in Washington DC.
Represented former Enron executive Jeffrey Skilling in his US Supreme Court appeal and helped win an appeal on challenging the 'honest services' fraud statute.
Lecturer at Harvard Law School.
Currently: Principal Deputy Solicitor General of the United States since August 26, 2011.
Trivia: Srinivasan was awarded the Office of the Secretary of Defense Award for Excellence from the United States Department of Defense in 2005.
His father, who hails from Tirunelveli, Tamil Nadu was Professor of Mathematics at the University of Kansas.
While Srinivasan was at Lawrence High School he apparently played basketball with future NBA player Danny Manning.