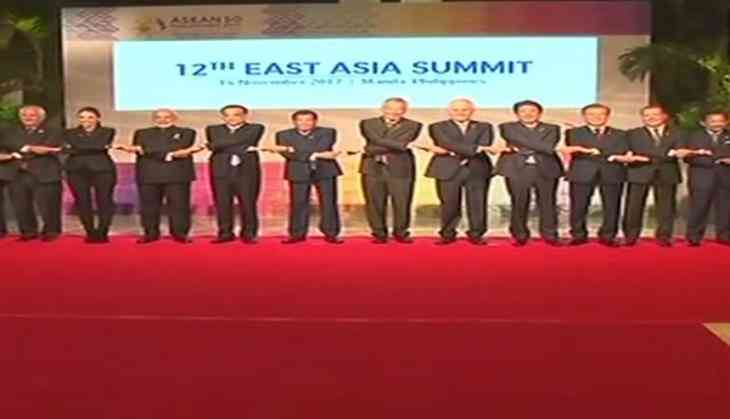 Prime Minister Narendra Modi on 14 November attended the 12th East Asia Summit in Manila, Philippines.
Earlier today, Prime Minister Modi held bilateral meetings with Japanese Prime Minister Shinzo Abe, New Zealand Prime Minister Jacinda Ardern, his Vietnamese counterpart Nguyen Xuan Phuc and Australian counterpart Malcolm Turnbull on the sidelines of the 31st ASEAN Summit in Manila, Philippines.
The prime minister also met with Sultan of Brunei Hassanal Bolkiah.
He later took to Twitter to inform about these meetings.
"Delighted to have met you, Prime Minister @TurnbullMalcolm. Our talks today add new vigour to the friendship between India and Australia," he tweeted.
"My friend @AbeShinzo and I had an excellent meeting in Manila. We reviewed the ground covered on various aspects of India-Japan ties and discussed ways to deepen cooperation between our economies and people," PM Modi posted another tweet.
"Glad to have met Sultan Hassanal Bolkiah of Brunei. Our extensive talks will broaden bilateral ties between our nations."
"Wonderful meeting with PM @jacindaardern. We discussed deepening economic and cultural cooperation between India and New Zealand."
"Vietnam's PM, Mr. Nguyen Xuan Phuc and I held wide ranging deliberations on enhancing India-Vietnam friendship, which can greatly benefit our citizens and region."
The prime minister also held bilateral talks with United States President Donald Trump, on Monday here. The two leaders discussed the comprehensive strategic partnership between the United States and India and their shared commitment to a free and open Indo-Pacific region.
Prime Minister Modi noted that he looked forward to hosting the United States delegation to the upcoming Global Entrepreneurship Summit, showcasing innovation and collaboration between India and the US.
The Indian prime minister arrived in the Philippine capital on Sunday for a three-day visit.
Prime Minister Modi also visited the International Rice Research Institute in Los Banos, Philippines, and inaugurated the Resilient Rice Field Laboratory, named after him.
-ANI