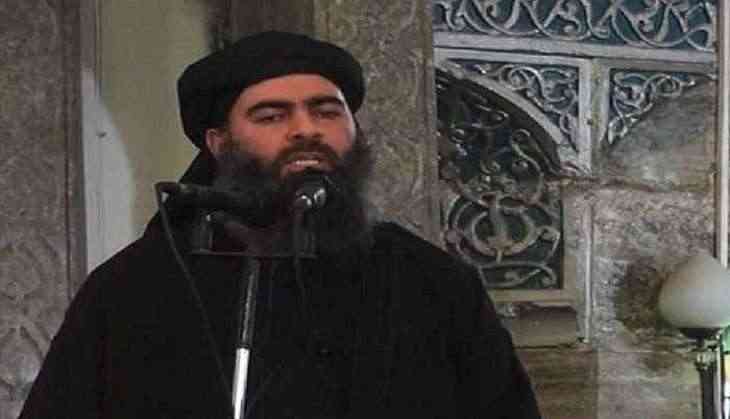 ISIS leader Abu Bakr al-Baghdadi
In a major blow to dreaded terror group Islamic State of Iraq and Syria, the chief of ISIS, Abu Bakr al-Baghdadi has been killed, said Syrian rights group.
The Syrian Observatory for Human Rights (SOHR) confirmed the news on Tuesday.
The terror group is said to have confirmed that the 45-year-old was killed in an air strike in Nineveh province of Iraq.
The Syrian Observatory for Human rights said it had "confirmed information" that Baghdadi had been killed.
In May, the Russian Defence Ministry said that their air raids may have killed Baghdadi in an airstrike near the eastern Syrian city of Raqqa, but due to lack of evidence the death of ISIS chief was not confirmed.
Baghdadi had declared the Islamic State's caliphate from the pulpit of Al-Nuri Mosque in Mosul in July 2014.
Iraq on Thursday announced the end of ISIS in the city of Mosul that has been under seizure of the extremist groups for three years.
Abu Bakr al-Baghdadi
Abu Bakr al-Baghdadi's birth name is Ibrahim Awad Ibrahim al-Badri and he was believed to have been born in 1971 in Samarra, just north of Baghdad. Little is known about Abu Bakr al-Baghdadi, the head of the Islamic State militant group, lesser is known about his whereabouts.
Rumours of al-Baghdadi's death did the rounds of the media last year where it said that he was 'seriously wounded' in an air strike conducted by the US-led coalition. As we now know, that was a false claim. al-Baghdadi broke a months-long silence last May when an audio tape was released urging Muslims to emigrate to the "caliphate".
Al-Baghdadi's one and only public appearance on the video were to deliver a sermon in Mosul. This was after IS had taken over the northern Iraqi city in 2014. Before that, there were only two photos of him that were authenticated.
At the beginning of the US-led invasion in 2003, al-Baghdadi was a cleric in a mosque. By 2010, things had changed and he emerged as the leader of al-Qaeda in Iraq. Al-Qaeda was one of the groups that went on to become the Islamic State of Iraq. A year after that, the United State officially labelled al-Baghdadi a 'terrorist' and offered a reward up to $25 million for any information that led to his capture or death.
Although numerous media reports have speculated on al-Baghdadi's death, neither the Pentagon nor the Iraqi or Syrian militaries have ever confirmed those claims.
-With ANI inputs.