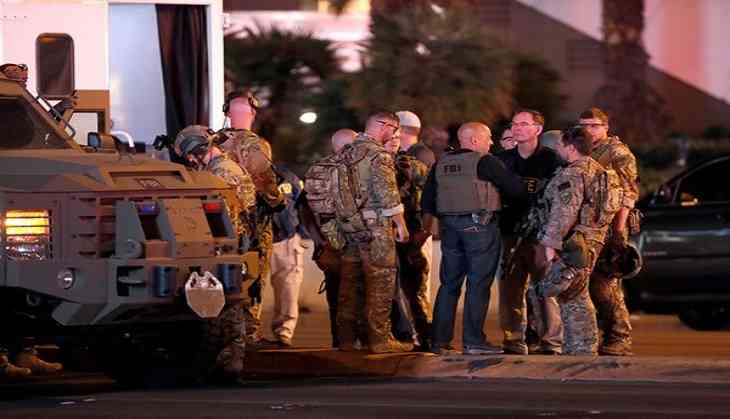 The police recovered "in excess of" 18 additional firearms, explosives and several thousand rounds of ammo at the home of the rescued in Mesquite, the Las Vegas Sheriff has said, in connection with a shooting spree last night in Las Vegas that left more than 50 people killed.
Sheriff Joe Lombardo said investigators are focussed on four main crime scenes right now: The room at Mandalay Bay hotel from where the gunman shot, the concert event location, the shooter's house in Mesquite, Nevada, and the SWAT teams are standing by at a home in northern Nevada, the CNN repotrs.
Some electronic devices were also retrieved which the department is evaluating, he added.
The death toll and injury count has also climbed, according to Sheriff Joe Lombardo. At least 59 are dead, and 527 injured.
Meanwhile, White House press secretary Sarah Sanders grew emotional, earlier in the day, on Monday as she spoke about those, who were killed in Las Vegas, but dismissed questions about gun rights as too political in the wake of the tragedy.
Sanders choked up reflecting on how those men and women, who lost their lives, will be remembered.
"The Gospel of John reminds us that there is no greater love than to lay down one's life for a friend. And the memory of those who displayed the ultimate expression of love against an unimagined act of hate will never fade. Their examples will serve as an eternal reminder that the American spirit cannot and will not ever be broken. In the days ahead, we will grieve as a nation, we will honour the memory of those lost as a nation and we will come together united as one nation, under God, indivisible," she added.
Sanders further told reporters that having a debate on gun control is "not the place that we're in at this moment."
Earlier, President Donald Trump used a brief address from the White House to call for unity in the aftermath of the deadliest mass shooting in modern U.S. history, calling it an "act of pure evil."
"We cannot fathom their pain, we cannot imagine their loss," Trump said of those who lost loved ones in the massacre.
"There's a time and place for a political debate, but now is the time to unite as a country," Sanders said. "There's currently an open and ongoing law enforcement investigation, a motive is yet to be determined and it would be premature for us to discuss policy when we don't fully know all the facts or what took place last night."
Here's what happened:
-At least 59 people were killed and more than 500 hurt in a shooting last night. Witnesses said it lasted 15 minutes.
-The gunman, 64-year-old Stephen Paddock, is dead. He was not known to the authorities.
-It happened during a country music festival on the Las Vegas Strip. The shooter fired from the 32nd floor of the Mandalay Bay hotel.
-A gun store in Mesquite sold firearms to the gunman. The shooter, 64-year-old Stephen Paddock, lived in a retirement community for people aged 55 and over in Mesquite, Nevada.
- Police found 10 rifles inside Paddock's hotel room, Las Vegas Police Department Sheriff Joseph Lombardo said on 2 October.