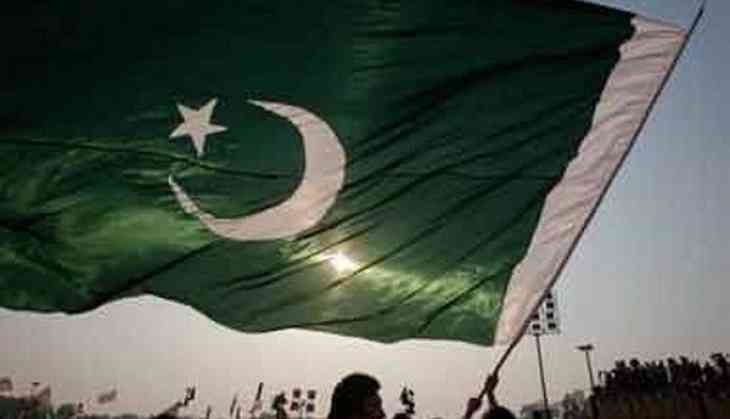 'Largest' flag hoisted at Wagah to bring in Pakistan's 70th I-Day
Pakistan, this year, hoisted South Asia's largest flag at Wagah border to commence the 70th Independence Day celebrations at 12:00 am, into wee hours of Monday.
Pakistan's Chief of Army Staff (COAS) General Qamar Javed Bajwa was the chief guest at the ceremony, attended by hundreds of people.
The flag, made entirely in Pakistan, is 120 feet by 80 feet in size, making it world's eighth largest one. It was hoisted on a 400-feet pole at midnight.
The hoisting was followed by grand fireworks and an address by General Bajwa.
"Some 77 years ago, Pakistan resolution was passed in the same city [Lahore]. Pakistan came into being on the night of 27th Ramazan - it was a blessed night," said the Army chief General, as quoted by the Dawn.
"Today, the country is progressing on the path of the law and the Constitution. All Institutions are working properly. We will make Pakistan the country of Quaid-e-Azam and Allama Iqbal," he said, adding, "We have rendered many sacrifices - we will never forget our martyrs. We will execute each and every terrorist in Pakistan. I want to tell our enemies, whether they are in the in east or west, that your bullets will end but not the chests of our jawans [soldiers]."
Acknowledging Pakistan's "internal and external challenges", the COAS said, "I assure you that we will never let you down. Any power that will aim to weaken Pakistan, the Pakistan Army and all other institutions will foil their attempts."
A leading ceremony, to mark Pakistan's Independence Day, is organised in capital Islamabad, which will be attended by President of Pakistan Mamnoon Hussain, Pakistan's new Prime Minister Shahid Khaqan Abbasi, and chiefs of all armed forces among others.
-ANI