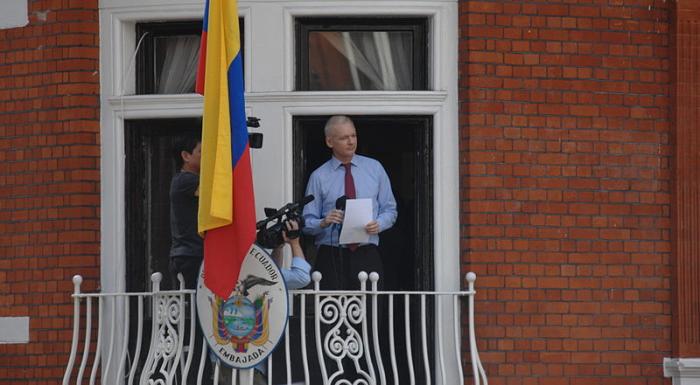 The United Nations Working Group on Arbitrary Detention on Thursday ruled that WikiLeaks founder Julian Assange is being unlawfully detained in London, the BBC reported.
However, the ruling is reportedly not binding in Britian.
While Assange will seek to use the ruling to seek a guarantee for his safety - and the return of his passport - the British police will continue to keep him under surveillance.
The BBC quoted a UK government spokesperson as saying that the ruling would not affect arrest warrant against Assange. "We have been consistently clear that Mr Assange has never been arbitrarily detained by the UK but is, in fact, voluntarily avoiding lawful arrest by choosing to remain in the Ecuadorean embassy," the spokesperson told BBC.
"The UK continues to have a legal obligation to extradite Mr Assange to Sweden."
The UN Working Group on Arbitrary Detention will take a call in the case against Assange by the United Kingdom and Sweden.
Earlier, Assange had offered to surrender to the British police on Friday - on the condition that he will only leave the Ecuador embassy in London only if the United Nations rules out his illegal detention status.Assange, who has been living in the embassy at Knightsbridge since 2012, took to Twitter to make the statement. He said:
Assange: I will accept arrest by British police on Friday if UN rules against me. More info: https://t.co/Mb6gXlz7QS pic.twitter.com/mffVsqKj5w

- WikiLeaks (@wikileaks) February 4, 2016
Assange is wanted in Sweden on charges of sexual assault and rape of two women. He has denied the charges and has alleged that he was being "arbitarily detained". He sought asylum in the Ecuador embassy after the UK apex court gave the go ahead for the extradition against him.
In January, the foreign minister of Ecuador, Ricardo Patino had said that Assange could be interrogated by Swedish prosecutors "as long as the sovereignty of the Ecuadoran state and the laws in the constitution are respected", the Associated Press reported.