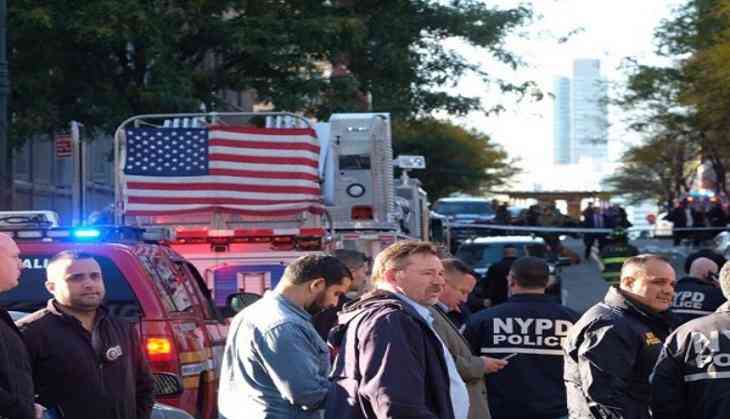 The Islamic State has claimed responsibility for the truck attack in New York City that killed eight.
The terror group's weekly issue of Al-Naba newspaper on 2 November declared that "the attacker is one of the caliphate soldiers."
Islamic State finally claims New York attack in its latest issue of al-Naba' newsletter pic.twitter.com/07gA2KR8XJ

— Aymenn J Al-Tamimi (@ajaltamimi) November 3, 2017
On 31 October, the 29-year-old terror suspect, Sayfullo Habibullaevic Saipov, who deliberately drove into bicyclists and pedestrians on a bike path in Lower Manhattan on Tuesday, killing at least eight people and injuring many, had left a note behind in the rental truck, pledging his allegiance to the Islamic State of Iraq and Syriac (ISIS).
Hours after the attack, U.S. President Donald Trump said that America must not let the ISIS "return to or enter" the country.
Officials said it was the deadliest terrorist attack in New York City since 9/11.
Saipov came to the U.S. from Uzbekistan. According to the media reports, Saipov may have gained entry through the diversity visa programme.
Afterwards, the U.S. Department of Homeland Security released a statement saying he did use the lottery to enter the U.S. in 2010.
Authorities had charged Saipov with providing support to a terrorist organisation, alleging the Islamic State inspired him to carry out the attack.
"In court papers, federal authorities said that Sayfullo Saipov told the FBI that he began planning his attack a year ago, though he settled on using a truck as a weapon only two months prior," The Washington Post had reported.
-ANI