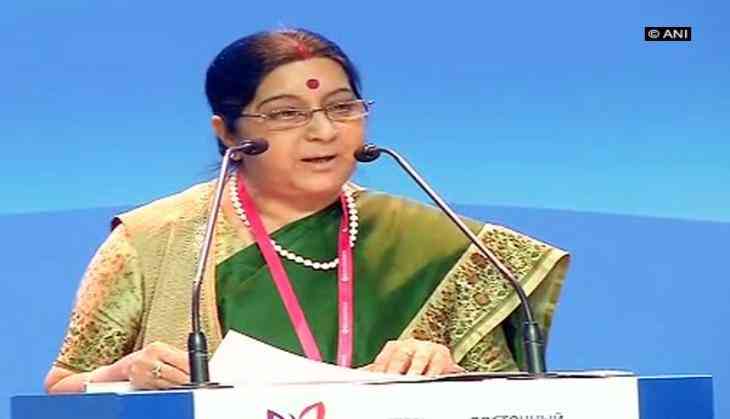 External Affairs Minister Sushma Swaraj (ANI)
External Affairs Minister Sushma Swaraj on 5 September said there is a need for enhancing trade, commerce and investment with the Russian Far East to achieve the target of 30 billion U.S. Dollars, set for bilateral trade, by the year 2025.
"The Russian Far East is one of the richest regions in the world and India is among the fastest growing large economies of the world. There is lot that can be done together. When other markets are closing, we need to find new ones and create virtuous cycles of investment. Investment is in the ultimate analysis an act of faith," Sushma said, while delivering a speech at the Eastern Economic Forum
"Greater trade, commerce and investment with the Far East will help us in achieving the target of 30 billion U.S. Dollars that we have set for our bilateral trade by the year 2025," she added, attaching importance to the opportunities in the Russian Far East.
"First, bridge the knowledge gap between our business communities. We need to create a network of partnerships and better understand the laws and regulations in each other's countries. Second, identify areas of common interest and potential, keeping in mind the mutual strengths and complementarities," the External Affairs Minister said, while listing the objectives to be attained by her participation in the third Eastern Economic Forum.
"Third, identify what actions the two governments should take to further facilitate investments and trade. We are already working on initiatives such as the Green Corridor, the International North-South Transport Corridor and Investment Promotion and Protection Agreement. The Russian Government has eased visa policies for Indians in the Far East. Fourth, we should create success stories. An Indian company, KGK Diamonds, is setting up a processing facility in Vladivostok. Other projects are under discussion. I am confident that the Russian Government will assist the Indian investors in the region," Sushma said.
"Fifth, we should encourage more interactions between our regions. I would like to reiterate our invitation to regions and businesspersons of the Far East to visit India. The Russian Far East Investment and Export Agency has been in touch with Invest India."
Sushma also announced that India would provide an annual grant of 10,000 US Dollars to fund the study of Indology at the Centre of Regional and International Studies in this University.
Sushma said that under the flagship programmes of Make in India and Start-up India, the Indian Government has made concerted efforts to attract technology, investments and best practices from across the world.
Sushma said, "Our programmes, directed at the social sector, such as those for skilling our youth and providing housing for all and massive infrastructure programmes in roads, ports, metros, railways, energy, food processing, education, innovation, are opening up unparalleled opportunities and creating the impulse for rapid growth. There has been no better time to engage with India".
"Prime Minister Modi and Russian President Putin together met the CEOs of both countries in St. Petersburg. Many ideas were exchanged. I see today's Dialogue as a continuation of that process," Sushma added.
"India is not new to the Russian Far East. In 2001, during the tenure of the then Prime Minister, Shri Atal Bihari Vajpayee, ONGC took the bold decision to invest in the oilfield, not far from here. Till today, this is one of the most successful multi-billion dollar investments by India overseas."
Sushma said, "The areas, identified as priority sectors such as machine industry, oil and gas, fisheries, agriculture, metals and mining, diamonds, timber, transport and logistics and tourism are all of interest to India."
"The Ministry of Far East Development has taken many initiatives such as liberalisation of the visa regime, establishment of Special Economic Zones and making land allocations. In 2016, we made very significant investments in each other's countries. India invested 5.5 billion US Dollars in the oil sector in Russia. The largest Russian investment in India of 12.9 billion US Dollars, which is also India's largest FDI, was concluded last month in the oil sector between Rosneft and Essar," she added.
-AN