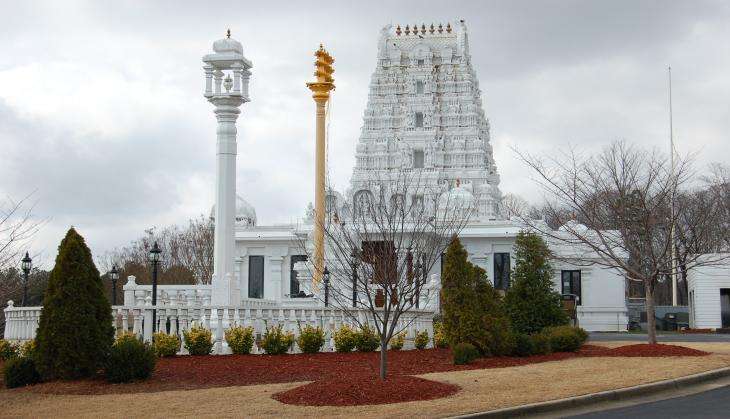 Setting an example of inter-faith cooperation and social harmony, a Mumbai-born Muslim police officer was put in charge of the largest Hindu temple in the Indianapolis city of US.
An eight-degree black-belt in Taekwondo and a kickboxing champion, Lt Javed Khan from the local police department is director of security at the Hindu temple in Indianapolis.
For hundreds of visitors thronging the temple daily, in particularly over the weekend, Khan, who was born in Mumbai and raised in Lonavla, Pune, is now considered a part and parcel of the Hindu temple.
"My message is this; we are all one. We are all the children of God. There is only one God and then there are different forms and names, we choose to worship," Khan told PTI in a phone interview from Indianapolis.
"We are Indians. Half my family is Hindu. I do not believe in Hindu-Muslim thing," he said.
"I am just doing my duty. I am not doing anything special or extraordinary," Khan said when asked for an interview.
Khan settled in Indiana in 2001, a year after he migrated to the United States. He had been coming to the US since 1986 to participate in various martial arts championship.
Khan said it all started a few years ago, when he married his daughter to a Telugu boy at this Hindu temple, after which he started knowing people at the temple.
Soon, he said, "I felt there is need over there for protection. Then I offered my services. I am director of security for the temple now. While the temple has been in existence for the past several years, its formal opening ceremony -- Kumbhabhishekam -- was held last year, which was attended by top state leaders."
"Your place of worship adds another significant landmark to the city of Indianapolis and I am certain that it will play a key role in enriching the cultural heritage of our state, as well as, the learning and spiritual growth of its devotees and visitors," Indiana Governor Mike Pence had said in a message in June last year at the time of the formal opening of the temple built at an estimated cost of USD 10 million. Pence is now the vice presidential candidate of the Republican party.
--
PTI