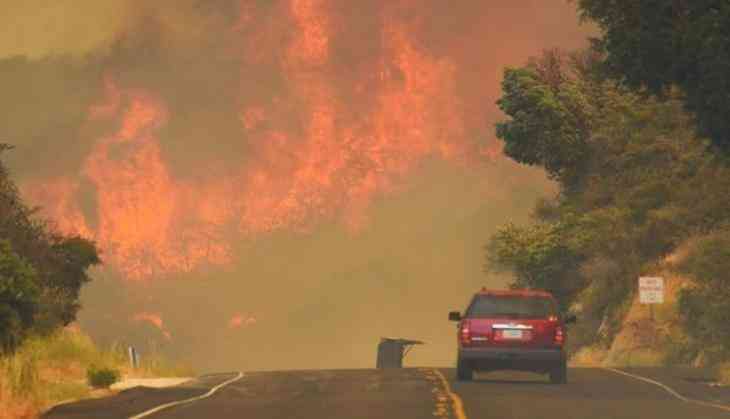 Hundreds, including children, evacuated as wildfires ablaze California
In the wake of a string of wildfires blazing through California, campers were forced to leave their tents and children were evacuated from summer camps to escape the wrath of the calamity.
In Santa Barbara County, the Whittier Fire that sparked off on both sides of Highway 154 near the San Marcos Pass on Saturday, has destroyed over 5,000 acres of land, CNN reported county spokeswoman Gina DePinto saying.
On Saturday, over 2,000 people, including campers and children were evacuated and have been safely rehabilitated, organisers notified via social media.
The flames burnt several recreational areas such as Camp Whittier and Lake Cachuma, forcing visitors to abandon tents, RVs and boats.
A sheriff's vehicle was also reportedly destroyed near east of Lake Cachuma but the deputy was not hurt, a county spokesman said on Twitter.
While the cause of the fire is yet to be ascertained, officials on Twitter said it was zero percent contained as of late Saturday.
In a similar instance in Alamo, as many as 200 homes were evacuated over a fire that was first reported on Thursday.
Since then, 19,000 acres were reportedly destroyed near California Highway 166, with only 10 percent contained so far.
Likewise, over 300 homes were evacuated after a fire broke out in Butte County in Northern California on Friday, and reportedly destroyed 2,700 acres of land.
-ANI