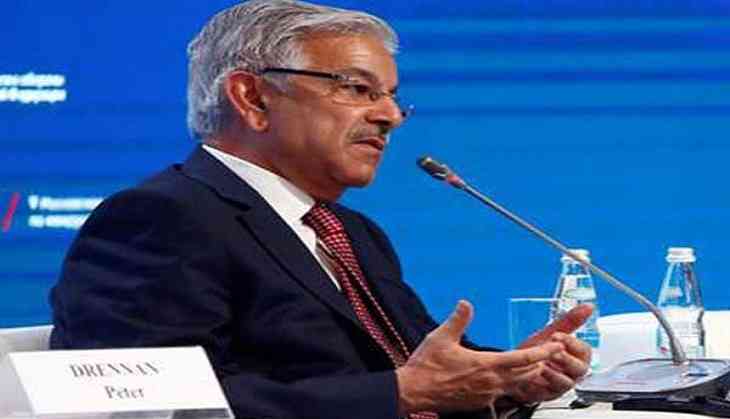 Clarifying Pakistan's position, Foreign Minister Khawaja Asif has refused to accept the blame for the presence of the Haqqani Network and Hafiz Saeed in his country, saying it was United States that regarded these 'terrorists' as the darlings of the White House a few decades back.
"Don't blame us for the Haqqanis [the Haqqani Network] and don't blame us for the Hafiz Saeed, chief of banned Jamaat-ud-Dawa. These were the people who were your darlings just 20 to 30 years back. They were being dined and wined in the White House, and now, you say 'go to hell Pakistanis because you are nurturing these people,"The Dawn quoted Foreign Minister Khawaja Asif as saying this at the Asia Society in New York.
"It is very easy to say Pakistan is floating the Haqqanis and Hafiz Saeed and Lashkar-e-Taiba. They are liabilities. I accept that they are liabilities, but give us time to get rid of them, because we don't have the assets to match these liabilities and you are increasing our liabilities further,"Asif said, who is attending the 72nd session of the UN General Assembly.
Expressing Islamabad's readiness to work with the United States, Asif said "Pakistan stands ready for effective management of the Afghan border to stop terrorist infiltration and to facilitate a peace settlement in Afghanistan."
In the past, the US has accused Pakistan of not taking significant action against the Haqqani Network. Washington claims the militant outfit has been operating out of "Pakistan-based safe havens" to threaten US and Afghan forces in Afghanistan.
Asif has said that Islamabad cannot be blamed for instability in Afghanistan as while the United States has applied a strategy for establishing peace there, it can only succeed through a negotiated settlement.
"Pakistan cannot owe responsibility for peace and security in Afghanistan, adding that effective border management with Afghanistan is imperative to stop the infiltration of terrorists," the News International quoted Asif, as saying while addressing the Asia Society in New York.
Asif said that the United States cannot succeed in Afghanistan by waging war, adding that for the last 16 years, it is clear that peace will not be restored by resorting to military force.
Asif reiterated that Pakistan wants peace in Afghanistan, but several Afghan leaders want the status quo to continue for their own vested interests.
-ANI