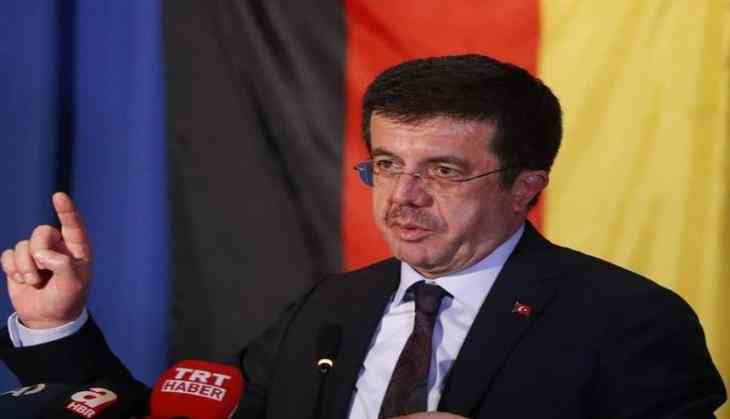 Turkish economic minister Nihat Zeybekci said that the first Turkish ship carrying aid to Qatar has departed in a bid to break the embargo imposed on Doha by a number of Gulf countries.
"Nearly 105 cargo planes have carried aid from Turkey to Qatar, after five Arab countries cut diplomatic ties with Doha earlier this month. Further shipments will follow Wednesday's batch", Anadolu News Agency quoted Zeybekci as saying.
However, it is not economical or sustainable to send food stuff by plane, he said.
Keeping in view Eid al-Fitr - which marks the end of Muslim fasting month of Ramadan, trucks of vegetables are being sent to Qatar on a weekly basis from Beypazari district of the Turkish capital Ankara, said Yavus Ekici, head of Directorate of Provincial Food, Agriculture and Livestock.
Both Turkey's Economy Minister Nihat Zeybekci and Foreign Minister Mevlut Cavusoglu were in Doha on June15 to mend Qatar's ties with Gulf Arab states and stated the crisis should be resolved "through peace and dialogue".
"The efforts by Turkey so far and the future steps to be taken were discussed during his meetings with several top Qatari officials," Anadolu quoted Cavusoglu as saying.
Qatar termed the actions by Gulf member countries of isolating it diplomatically it as "unjustified".
On June 5, Saudi Arabia, UAE, and Bahrain, along with Egypt had snapped diplomatic ties with fellow Gulf Cooperation Council (GCC) member Qatar accusing Doha of supporting terrorism.
Saudi Arabia, the U.A.E. and Bahrain also closed their airspace to Qatari aircraft, and gave Qatari diplomats 48 hours to leave their respective countries. Meanwhile, Riyadh also sealed its land border with Qatar.
Other countries who have recently cut diplomatic ties with Qatar include the Maldives and the Comoros Islands, along with Libya's Tobruk-based government.
-ANI