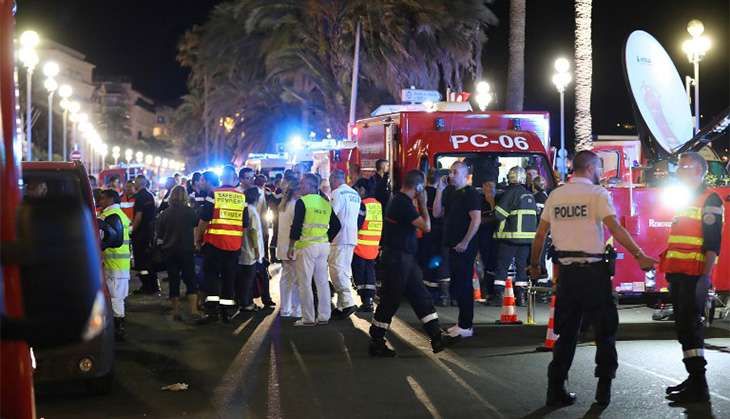 Eight months after the deadly terror attacks in Paris in November 2015, France was struck by terror once again. At least 84 people were injured and several others injured when a large truck ploughed through a crowd attending the Bastille Day celebrations on the night of 14 July in the French resort of Nice.
Here is what we know about the incident so far:
- In a televised attack, French President Francois Hollande condemned the attack. Hollande announced that the state of emergency in the country would be extended by three months. as announced by in a televised national address.
- According to reports, President Hollande will hold an urgent meeting at the interior ministry in Paris.
- He is expected to visit Nice along with Prime Minister Manuel Valls later today.
- The driver of the truck was shot dead after having barreled two kilometres through the crowd.
- The attacker was identified as Nice-Matin, a man of Tunisian origin. His identity papers were reportedly found in the cab of the lorry.
Also Read:Nice terror attack: 80 killed as truck ploughs through crowd in France
- The driver, who is believed to be 31, also opened fire on crowd before he was shot dead by police.
- The President said that France would "again reinforce its (military) action in Iraq and Syria".
Also Read:PM Narendra Modi condemns Nice terror attack; MEA opens helpline for Indians in France
- "France as a whole is under the threat of Islamic terrorism. We have to demonstrate absolute vigilance and show determination that is unfailing," said Hollande.
- Residents have been asked to stay indoors to allow emergency service personnel to carry on their work at the scene of the attack.
- Search operations are on to find more suspects.
- As confirmed by the External Affairs Spokesperson Vikas Swarup, no Indian is reported to be affected in a terror "attack" in French resort of Nice.
Also Read:Nice terror attack: No Indian affected, confirms MEA
-With agencies inputs