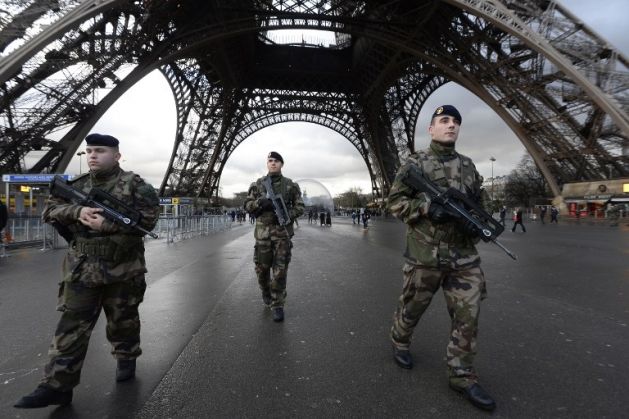 Condemning the deadly attack in Paris where over 150 are feared dead, defence experts on Saturday said that France has now become the biggest target of terrorist organization ISIS (Islamic State of Iraq and Syria) in Europe.
"It is a very serious concern for France because it is the biggest target of ISIS in Europe. The ISIS has strong connections in France. They have contacts with the children and have been giving them training. It is also true that there is involvement of sleeper cells or sleeper agents in this attack," defence expert S.R. Sinho told ANI.
"The attacks have taken place also because of the recent aggression of the western countries like USA, Britain and Russia against the ISIS. ISIS wants to show that nobody can control them and we can create huge destruction," he added.
The French capital was left in mourning and the world in unbelievable shock as scores were killed in the coordinated attacks late on Friday.
The deadly attack reportedly began in the Paris at a soccer stadium where a match was underway as explosions set off. Simultaneously, terrorists armed with AK-47s and bombs strapped to them began attacking in different sites throughout the city.
A state of emergency has been declared in France and all borders have been shut down until further notice while military reinforcements have been called in.
Another defence analyst Uday Bhaskar branded the attack as 'audacious' and said that this was going to round up the global communities against terrorism.
"It is very tragic that so many innocent citizens have lost their lives in this manner. Two issues stand out. One is the continuing challenge of terrorism of this particular nature and the vulnerability of the global urban clusters, if one could describe in that way," Bhaskar told ANI.
"For a variety of reasons, Paris has been attacked more than once. There have been reports that the ISIS has claimed responsibility. This in many ways is going to put the global focus on this particular entity as also the global anxiety about how does the global community provide the appropriate security framework to ensure that such attacks are prevented even as they are being planned," he added.
Bhaskar insisted that in many ways Paris has now become a target and perhaps this has to go with the manner in which the French media and magazines like Charlie Hebdo had taken a certain position as far as the malignancy of distorted Islamic ideology and related terrorism is concerned.
World leaders have reacted in shock condemning the attack and extended their full support to France in this horrific time.
"Strongly condemn terrorist attacks in Paris, India stands firmly by France, my heart goes out its people," President Pranab Mukerjee tweeted.
Condemning the 'senseless violence', Congress vice president Rahul Gandhi offered his condolences to the people of France and said that 'terror cannot defeat freedom and liberty' and that this has only strengthened the resolve of people to fight against terrorism.
U.S President Barack Obama said the attack was not just on France but on humanity and swore to help bring the perpetrators to justice.
"Once again we've seen an outrageous attempt to terrorise innocent civilians. This is an attack not just on Paris; it's an attack not just on the people of France. But this is an attack on all of humanity and the universal values that we share. The US stands prepared and ready to provide whatever assistance that the government and people of France need to respond," Obama said from the White House.
German Chancellor Angela Merkel issued a statement saying she was 'deeply shaken' by the horrific series of events and that her thoughts were with the victims "of the apparent terrorist attack."
U.N. Secretary-General Ban Ki-moon condemning 'the despicable terrorist attacks' and demanded the immediate release of numerous hostages held in the Bataclan theater.
British Prime Minister David Cameron also offered his condolences, saying he was shocked by the 'brazen attack' and vowed to extend all help possible.
"News from Paris is anguishing & dreadful. Prayers with families of the deceased. We are united with people of France in this tragic hour," Prime Minister Narendra Modi tweeted.
French President Francois Hollande sent out a strong message in a televised address to the grief and horror struck nation, asking them to stay united and swore the assailants responsible will face the consequences.
-ANI