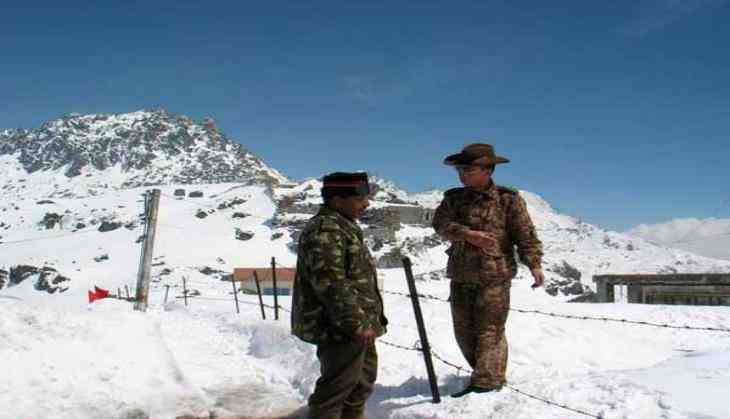 An aggresive China did not anticipate India stepping in a strong manner to defend Bhutan's territorial sovereignty during its unilateral move to build a motorable road from Dokala in Doklam area towards the Bhutan Army camp in Zornpelri, according to Ryszard Czarnecki, vice president of the European Parliament.
In an article written for EP Today, Czarnecki has exposed Beijing's lie of assuring the international community that its 'peaceful rise' would not in any way threaten the established order, but instead promote a peaceful international environment.
He clearly states that China has been following a foreign policy that squarely infringes on internationally accepted norms.
Referring specifically to the tri-junction politico-military impasse in Doklam involving China, India and Bhutan, Czarnecki said, "On June 16, China's unilateral move to build a motorable road from Dokala in Doklam area towards the Bhutan Army camp in Zornpelri is an illustration of this policy .. Bhutan's objection to construction activities by China in the disputed Doklam area, conveyed through diplomatic channels, was possibly expected by China. However, what China may not have foreseen was India stepping in to defend Bhutan's territorial sovereignty."
"(The) Chinese action in the Doklam plateau can be seen as a part of the country's recent tendency to unilaterally change the ground situation in areas that are disputed. The most well-reported example has been China's deliberate move to disrupt the status quo in the South China Sea.. by conveniently ignoring the maritime territorial claims of Malaysia, Vietnam, Brunei and the Philippines in the region .. expanding its strategic outreach in the area," says the European Parliament vice president.
China, he opines, may have only gambled, anticipated and calculated that Bhutan would not be able to retaliate through force, and believed that the construction of the road would be completed within weeks, giving it a clear strategic advantage.
However, all didn't go as planned. The movement of Indian troops, done in consultation with the Government of Bhutan and with the principal objective to maintain status quo, was probably not anticipated by China.
The Chinese Foreign Ministry and its state-owned media reacted predictably to the Indian action with strong rhetoric, including reminding India of its defeat in the Indo-China war in 1962.
"China's propaganda machinery has gone into an overdrive to implicate India for the border stand-off, conveniently glossing over the fact that China had taken the first step to change the status quo of the tri-junction area that it had committed to maintain under the Agreement on Maintenance of Peace and Tranquillity, signed with India in 1993. China is now insisting that it would not hold any dialogue on the matter till Indian troops withdrew from the area," Czarnecki says in his article.
He concludes by saying that "China needs to realize that its unprecedented economic and military growth must go hand in hand with respect for international rules. Without that, it will be hard to believe in assurances of 'win-win' and 'shared destiny' by the Chinese leadership."
-ANI