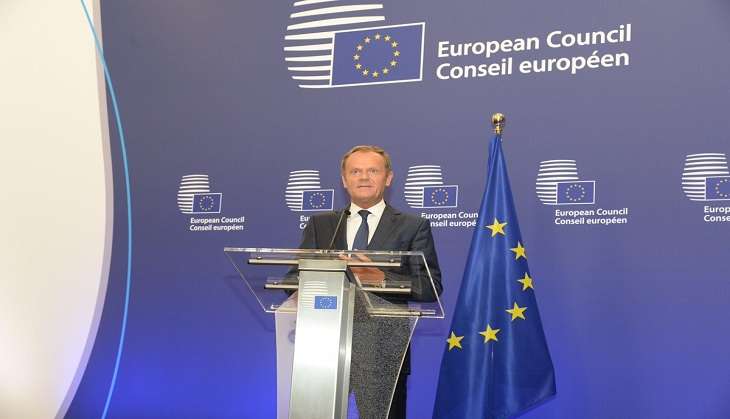 In the wake of Britain's historic decision to break away from the European Union, president of the European Council Donald Tusk has issued a joint statement on the outcome of the EU referendum, along with Martin Schulz, Mark Rutte, and Jean-Claude Juncker.
Martin Schulz is the president of the European Parliament, Mark Rutte, the holder of the rotating Presidency of the Council of the EU, and Jean-Claude Juncker is the president of the European Commission.
In the statement, the leaders have expressed regret at Britain's decision to part ways, but have also stated that they respect their decision, and will do the needful to ensure that the 'Brexit' procedures are conducted in an expedite manner, and in accordance with Article 50 of the Lisbon treaty that lays down guidelines for members wanting to dissociate with the Union.
"This is an unprecedented situation but we are united in our response. We will stand strong and uphold the EU's core values of promoting peace and well-being of its peoples. The Union of 27 Member States will continue. The Union is the framework of our common political future. We are bound together by history, geography and common interests and will develop our cooperation on this basis. Together we will address our common challenges to generate growth, increase prosperity and ensure a safe and secure environment for our citizens," the statement reads.
The EU wishes to get the ball rolling without further delay to avoid uncertainty on the matter, and has also urged the United Kingdom to give effect to the decision as soon as possible. The statement also declares that the Union is ready to launch negotiations swiftly, so that the terms and conditions that will govern the relationship between the UK and the EU can be drawn up.
"Until this process of negotiations is over, the United Kingdom remains a member of the European Union, with all the rights and obligations that derive from this. According to the Treaties which the United Kingdom has ratified, EU law continues to apply to the full to and in the United Kingdom until it is no longer a Member," reads the joint statement.
The statement further lays down that the 'New Settlement for the United Kingdom within the European Union', which was ratified on 18-19 February at the European Council now stands nullified.
In the joint statement, the EU leaders have said they are hopeful that the relationship between the two bodies will remain cordial, despite them having parted ways.