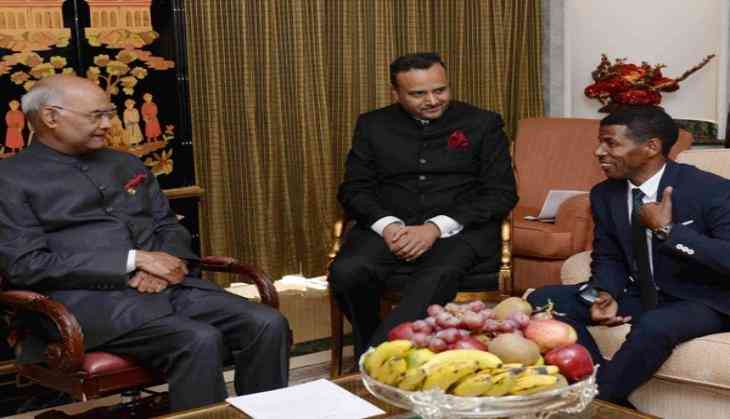 Ethiopian Athletics Federation (ANI)
President of India Ram Nath Kovind interacted with retired running legend Haile Gebrselassie, the president of the Ethiopian Athletics Federation, at Addis Ababa on 6 October.
The 43-year-old sports star, considered one of the greatest distance runners of all time, won two Olympic gold medals over 10,000 metres and four World Championship titles in the event. He won the Berlin Marathon four times consecutively and also had three straight wins at the Dubai Marathon. Further to this, he won four world titles indoors and was the 2001 World Half Marathon Champion.
Hailing India-Ethiopia bilateral relations, President Kovind said ,"In promoting Indian way of life, you have done well to explain the thought and science of yoga and the benefits of Ayurveda to people around you. It is inspiring for me to learn that the International Day of Yoga is celebrated each year with much fanfare in this country."
"And with the legendary Haile Gebrselassie by your side, you could not have asked for a better partner and support."
"Our contemporary people-to-people connect is just one part of the India-Ethiopia story. We have been engaging and embracing our Ethiopian brothers and sisters for ages. Our forefathers first came to this biblical land, long long ago," he added.
President Kovind on Thursday had announced that India will give Ethiopia a line of credit of $195 million for power transmission sector and medicines worth US $2 million.
Reiterating India's support to Ethiopia, the Indian President said, "India will provide a credit line to the tune of $195 million to Ethiopia for Power transmission as well as worth US $2 million for medicines."
Stating that India wanted to strengthen bilateral ties with Ethiopia, President Kovind added that both the countries will also work together in UN and other multilateral bodies."
-ANI