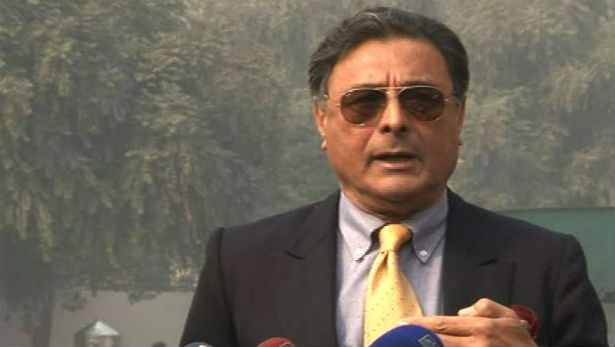 Pakistan's Punjab province Home Minister Shuja Khanzada was assassinated on 16 August when a suicide bomber blew himself up at his house in Attock district, killing at least 12 people and injuring several others in the brazen attack.
Khanzada and a DSP were among the 12 people killed when the suicide bomber attacked his political office in his native Shadi Khan village, Radio Pakistan reported.
At least 20 people were also injured in the blast.
The suicide bomber entered the building disguised as a visitor and blew himself up. As a result of the blast, roof of the house caved in burying the minister and about thirty other people.
Saeed Elahi, advisor to Punjab Chief Minister Shahbaz Sharif, confirmed the death of the Home Minister in the suicide bombing.
"Punjab Home Minister has died in the suicide bombing," Elahi said. Khanzada's body has been shifted to District Headquarters Hospital Attock.
Khanzada, a retired colonel, was holding a jirga (reconciliatory meeting with his area people) at his house, some 100 km from capital city of Islamabad, when the bomber managed to enter and blew himself up.
Commissioner Rawalpindi region Zahid Saeed said Deputy Superintendent of Police Shaukat Shah was also among those who died in the blast.
Rescue work was on to retrieve the people trapped under the rubble of the roof which collapsed due to the bombing.
The banned outfit Lashkar-e-Jhangvi (LeJ) has claimed responsibility for the suicide attack on Khanzada, sources in the interior ministry were quoted as saying by Dawn News.
They alleged Khanzada was under threat following the killing of LeJ chief Malik Ishaq in July.
"The hall of the building where the meeting was underway collapsed in the blast and over three-dozen people including the minister were trapped in the rubble," Punjab Law Minister Rana Sanaullah told reporters.
He said the war against terrorism would continue till the elimination of the last terrorist.
Inspector General of Punjab Police Mushtaq Sukhera said the security personnel of the minister were with him but the suicide bomber managed to enter the house of the minister.
Khanzada assumed the charge of home ministry in October 2014 and has been actively involved in major operations against terror outfits in the province.
He had recently announced that the al-Qaeda Pakistan chief and his accomplices were killed in an operation at the outskirts of Lahore.
Khanzada was considered a vocal member of the Punjab cabinet against militants. He had received threats from al-Qaeda and Tahreek-i-Taliban Pakistan.
-PTI