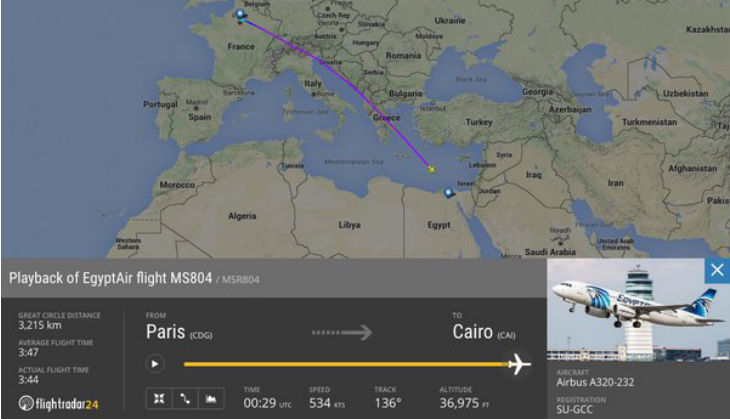 An EgyptAir flight en route Cairo from Paris has disappeared from the radar during the early hours of 19 May.
According to the official handle of the airline, the flight is carrying 59 passengers and 10 crew members.
An informed source at EGYPTAIR stated that Flight no MS804,which departed Paris at 23:09 (CEST),heading to Cairo has disappeared from radar.

— EGYPTAIR (@EGYPTAIR) May 19, 2016
The flight took off from Paris' Charles De Gaulle Airport at around 11 PM local time. According to the tracking service of Flightradar24, the plane disappeared from radar over the Mediterranean Sea, just a few minutes before it neared its destination.
.@EGYPTAIR stating #MS804 has "disappeared from radar". FR24 flight track: https://t.co/6tH4GQzOWU pic.twitter.com/NteMuuFj1O

— Flightradar24 (@flightradar24) May 19, 2016
According to EgyptAir tweets, the aircraft which was travelling at an altitude of 37,000 feet (11,280m), disappeared soon after entering Egyptian airspace. Before contact was lost at 2:45 AM local time, its last known position was above the Mediterranean sea.
Officials have confirmed that rescue teams have been deployed and search operations are underway.
Of the 56 passengers, there are reportedly 30 Egyptians, 15 French nationals, and one each from UK, Canada, Belgium and Portugal, on board the aircraft.
"Noteworthy that the aircraft pilot has 6275 of flying hours including 2101 flying hours on Airbus 320, " Egypt Air tweeted.
"As for the co-pilot he has 2766 flying hours. The manufacturing date of the aircraft in 2003," it said.
Meanwhile, special teams from the Egyptian Armed Forces have been deployed at site located for inspection and rescue.
Egypt Air has also offered toll-free numbers for passengers' relatives-080077770000 from any landline in Egypt and +202 25989320 from any mobile phone or from outside Egypt, reports ANI.