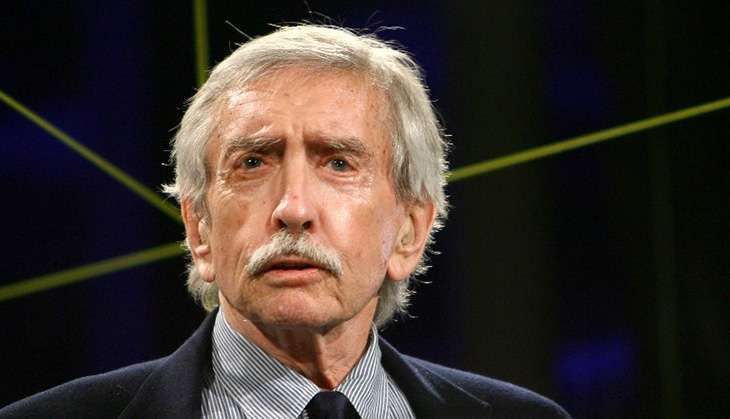 Legendary playwright Edward Albee, widely considered one of the greats of his generation, died at the age of 88, on 16 September, at his home in Montauk.
The news of his demise was confirmed by his personal assistant Jakob Holder, CNN reported. According to Holder, Albee died after a short illness.
Winner of three Pulitzer Prizes, Albee is famous for his work Who's Afraid of Virginia Woolf? - an intimate portrait of a volatile marriage. Albee's career spanned over five decades and he is considered one of America's greatest living playwrights after Arthur Miller and August Wilson.
Albee was awarded Pulitzers for A Delicate Balance, Seascape and Three Tall Women.
His play or drama would often explore the darker sides of marriages, religion, raising children, and American life. Denied the 1963 Pulitzer Prize for Who's Afraid of Virginia Woolf, the prize's advisory board ruled that the work was not sufficiently "uplifting" because of its profanity and sexual themes, BBC reported.
#RIP Edward Albee & THANK YOU for sharing your genius with we mortals. Thoughts and prayers to his friends and family.

— Adina Porter (@AdinaPorter) September 17, 2016
Edward Albee was a genius playwright. May he rest in peace.

— James Woods (@RealJamesWoods) September 17, 2016
#R.I.P #EdwardAlbee one of the gr8 original voices of the American theater. He lifted our expectations to what theater could stand for.

— John Leguizamo (@JohnLeguizamo) September 17, 2016
According to a BBC report, in 1996 he described the effect of the play's success: "I find Virginia Woolf hung about my neck like a shining medal of some sort - really nice but a trifle onerous." However, the famously scabrous portrait of a withered marriage, won a Tony Award for best play, ran for more than a year and half and enthralled and shocked theatergoers.
The same year he was awarded a National Medal of the Arts by then-president Bill Clinton. A few years ago, before undergoing a major surgery, Albee penned a short statement to be published at the time of his death: "To all of you who have made my being alive so wonderful, so exciting and so full, my thanks and all my love," he wrote.
Edward Albee. So sad. Go read "The Goat, or Who is Sylvia?" right now!

— Joanne Nosuchinsky (@JoNosuchinsky) September 17, 2016