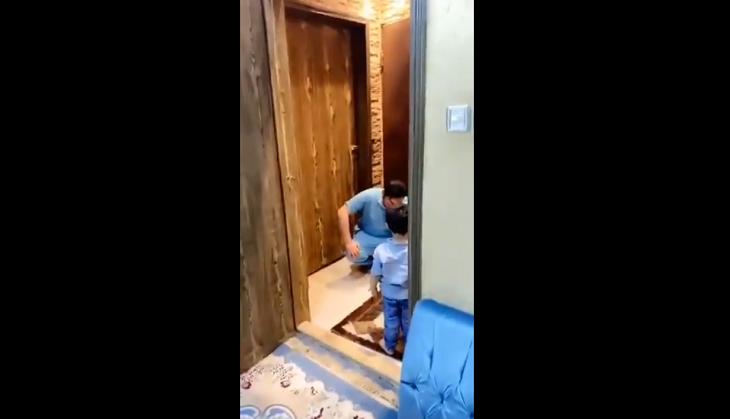 A heartwrenching video has surfaced the Internet which showed doctor in teary-eyed after he returned home from the hospital. The video depicted the pain of the doctor who stopped his son approaching to hug him.
The six-second clip was shared on Twitter by a user, Mike, which has gone viral now.
In the video, the doctor can be seen stepped inside his house in a doctor's uniform and then he stopped his little son who was running towards him in joy to hug his father. However, the man in the video immediately stopped him and asked him to keep distance as he was in a medical suit and had returned home after treating coronavirus patients.
The doctor can be seen so much distressing as he sat down on the floor and broke down in tears.
The video shared with a caption, "A Saudi doctor returns home from the hospital, tells his son to keep his distance, then breaks down from the strain."
Check out the emotional video:
A Saudi doctor returns home from the hospital, tells his son to keep his distance, then breaks down from the strain. pic.twitter.com/0ER9rYktdT

— Mike (@Doranimated) March 26, 2020
The video has garnered over thousands of likes and 4.8 million people have viewed the video.
Netizens are applauding the doctor for his altruistic efforts for his countrymen.
See what netizens wrote:
I can't stop crying over this

— Aima Khan (@aima_kh) March 27, 2020
This is just heartbreaking! May Allah take us all out of this catastrophe!

— Ramlah (@RamlahSeraj) March 27, 2020
Thank you for all you are doing for our world.

— AAdamsEML (@AAdamsEML) March 26, 2020
This is so incredibly sad.

— Maple Sugar⭐⭐⭐ (@MapleSu83765869) March 26, 2020
He cried because while he's exhausted from this, he just had to bark at his son to stay back. That was WHY he broke down. That was to UNNATURAL FOR HIM and it got him. He's not crying over humanity in that moment alone. His son doesn't understand and as a parent I get it.

— Damiana (@Damiana36620487) March 27, 2020
There are many people who criticised the doctor for coming home in his uniform.
He came home in his contaminated uniform and someone just happened to take video of it? Sorry I'm calling BS, very suspicious, wearing home PPE that can place others in danger is irresponsible and unacceptable. And why would you place others in danger??

— Draker (@Draker7415) March 27, 2020
He came back home with the medical uniform??

— Shiva (@Shivar44045709) March 26, 2020
Scrubs should never be worn on the streets and come home. They are designed to be put on at the hospital and washed by the hospital after a shift. This keeps the hospital germs in the and the street germs out of the hospital. They are not a fashion statement.

— Steve Bittner (@bittnerse) March 27, 2020
Meanwhile in Saudi Arabia, over 1000 positive cases for coronavirus has been reported and claimed 3 deaths so far.
What's your view on the video of the doctor?
Also Read: Blind mystic Baba Vanga warned people about coronavirus before her death? Know what she said