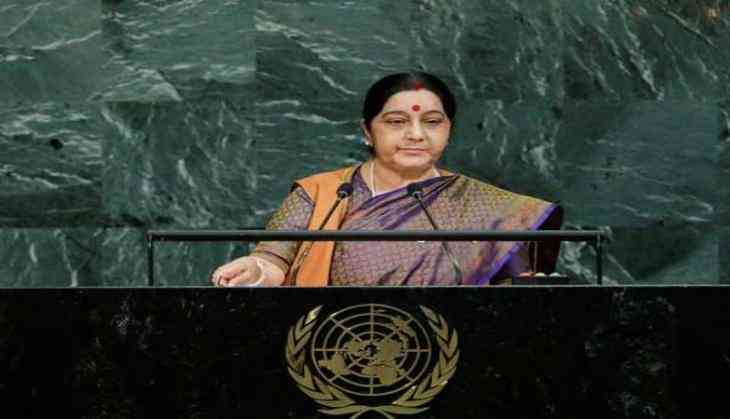 State-run Chinese media has slammed India for criticising Pakistan at the United Nations General Assembly in New York as well as showing arrogance to China, saying that this type of behaviour "doesn't match its much-vaunted ambition to be a world power."
The Global Times in a recently published editorial attacked Indian politicians for boasting "India's justice and grandeur" while rebuking its neighbour's foolishness and ugliness" and regarded Indian External Affairs Minister Sushma Swaraj's behaviour as politically incorrect for portraying "Indians of being super-proud of India's capabilities in cultivating engineers and doctors while looking down on neighbours as inferiors".
Thus specifically stating,"India despises others can hardly seek agreement over conflicts."
Acknowledging the fact that terror groups exists in Pakistan, the daily which is run by the China's Communist Party said that "There is indeed terrorism in Pakistan. But is supporting terror the country's national policy? What can Pakistan gain from exporting terrorism? Money or honor? Is India really an IT superpower that produces engineers and doctors when it is hell-bent on believing Pakistan is evil?"
"India's bigotry towards Pakistan" shows that India's polity is unconcerned about "the efforts and sacrifice that Pakistan has made to rid the world of terrorism and refrain from mixing disputes over terrorism with their own historical disputes," the editorial added.
Accusing India for attaching its own logic and argument to the China's relations with Pakistan, the daily said,
"India also seems to assess China's strategic hostility with its own logic: China's sound relations with Pakistan are to counter India. China's road construction in Doklam is to threaten the security of its Siliguri Corridor and China's Belt and Road initiative operates programs with Pakistan and other South Asian countries to encircle India. In any case, India's interests always reside at the epicenter of this logic".
"With smooth development of its economy and foreign relations in recent years, an arrogant India has looked down on Pakistan and assumed a haughty air with China. It takes for granted that it should be feared by neighbors and wooed by the US and Europe. If smart enough, India should befriend China and respect Pakistan, preventing disputes from spilling over. Holding on to its peripheral diplomacy of good-neighborliness, China has no desire to confront India. Hostility does no good for China," the daily stated.
It went ahead stating that, "Accepting others in a friendly way, China believes that countries in the 21st century won't be feverish about war or hostility like invaders of the last century. Many countries still have historical issues that can't be addressed easily. When defending its interests, a nation should be able to understand other's interests".
Defending Pakistan for its own war against terrorism, the daily said, "It is politically imbecilic and unsophisticated for Indian elites to conclude that Pakistan exports terrorism. They should have seen the efforts and sacrifice that Pakistan has made to rid the world of terrorism and refrain from mixing disputes over terrorism with their own historical disputes".
"There is no reason for India to disdain China, a stronger and better-organized country. Instead, India should learn a lesson from the Doklam standoff and rid itself of incomprehensible smugness, the daily concluded.
-ANI