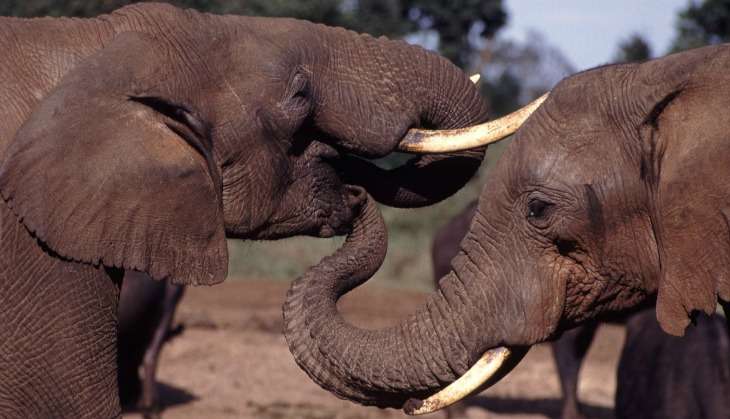 China, home to the world's biggest ivory market, will ban trade and processing of all ivory by the end of 2017, a move hailed by conservationists as "historic" and a "game changer" for African elephants facing threat of extinction.
The decision came after China had imposed a three-year ban on ivory imports in March this year, in an escalated fight against illegal trading of wild animals and plants.
"China will gradually stop the processing and sales of ivories for commercial purposes by the end of 2017," state-run Xinhua news agency quoted an official statement.
The move will impact China's 34 processing enterprises and 143 designated trading venues, with dozens to be closed by the end of March 2017, the statement said.
Before that deadline, law enforcement agencies will continue to clamp down on illegalities associated with the elephant's tusk, an official told the agency.
China's move, if implemented, strictly could a "game changer", specially the African elephant conservation as hundreds killed every year by poachers to feed into the burgeoning markets in China and Hong Kong.
In the seven years between 2007 and 2014, the elephant population plummeted by 30 per cent, or 144,000 animals. As of July, Africa's savannah is now home to only 352,271 elephants, according to the Great Elephant Census. Overall, including forest elephants, there are thought to be between 400,000 and 500,000 elephants across Africa.
China's move to ban ivory trade followed a resolution at the Convention on International Trade in Endangered Species (Cites) in South Africa in October.
China has the biggest ivory market in the world - some estimates suggest 70 per cent of the world's trade ends up there. Ivory's price can reach USD 1,100 per kg in China.
Conservation group WWF welcomed the latest news, calling it a "historic announcement", signalling an end to the world's primary legal ivory market and a major boost to international efforts to "tackle the elephant poaching crisis in Africa", BBC reported.
Elly Pepper, deputy director of wildlife trade for the Natural Resources Defence Council, praised China for its "great leadership" on the issue.
"Setting such an aggressive timeline to close - once and for all - the largest domestic ivory market in the world is globally significant, Pepper said.
"It's a game changer and could be the pivotal turning point that brings elephants back from the brink of extinction," she said.
While the international market in ivory has been closed since 1989, legal domestic markets have continued in many countries around the world.
A surge in the killing of elephants over the past seven years has seen populations across Africa shrink by a third, according to the recently published Great Elephant Census.
---
PTI