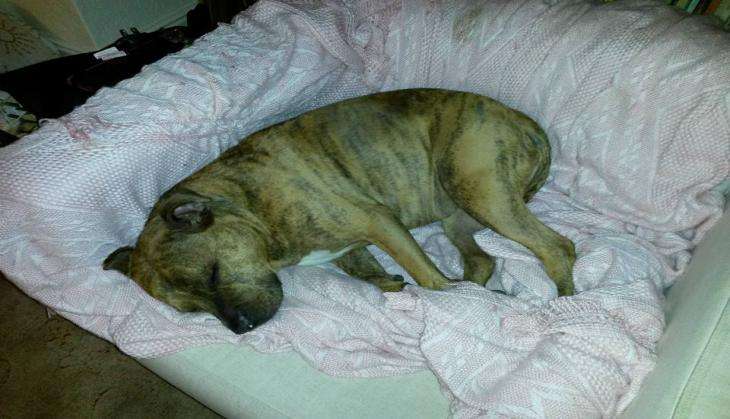 Britain's loneliest dog, Freya, has landed herself a role in the next Transformers film. Freya bagged the role after director Michael Bay spotted her on social media.
Bay also vowed to help find Freya a home. The six year-old, epileptic Staffordshire bull terrier cross was brought in to the shelter as a young stray, and had been rejected by more than 18,000 potential families who visited her rescue centre.
Found this in the news last week in the UK. We gave the Loneliest Dog, a role in Transformers. (1/3) pic.twitter.com/u4NIBRmvPH

— Michael Bay (@michaelbay) June 2, 2016
Bay stumbled upon Freya's story in a Facebook post and decided to cast her in the film to help her find a home. He also said that he would adopt her if she failed to find a home.
Freya, has epilepsy and has been in a shelter her whole 6 year life.We are also going to find her a home. (2/3) pic.twitter.com/JVLXnvRTU8

— Michael Bay (@michaelbay) June 2, 2016
If not she will come to my house. Welcome to the cast Freya! (3/3) #Transformers pic.twitter.com/x9YJoP9eq4

— Michael Bay (@michaelbay) June 2, 2016
Transformers: The Dark Knight, the fifth installment of the franchise, is due to start shooting this summer.
The shelter has welcomed the intervention from Bay. A spokesman for Freshfields Animal Rescue Centre told The Mirror: "We have had a fantastic response to our appeal for a new home for Freya, with lots of interest shown from around the world as well as closer to home in the UK."
Freya's epilepsy requires medication to manage and blood tests every three months. Deputy kennel manager Kate Jones, "She has been here many years now and is constantly overlooked, which breaks our hearts as we adore her".
The shelter said she will require an owner with patience while she adapts to being in a home for the very first time.
However, should Bay adopt her, Freya will live with the director's pet bullmastiffs, Bonecrusher and Grace - named after characters in his own movies Transformers and Armageddon.