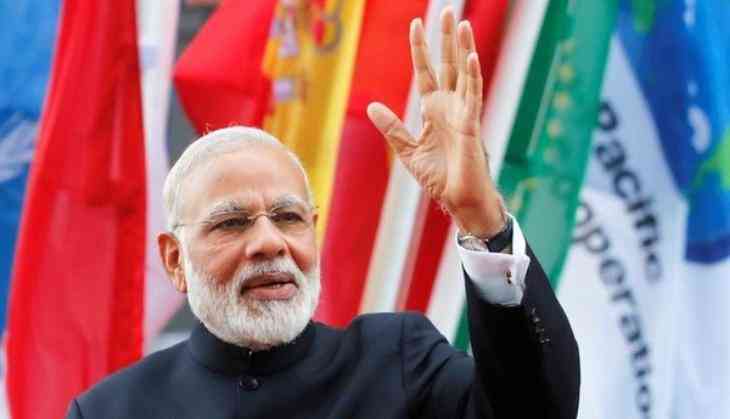 Chinese Prez Jinping meets PM Modi. (ANI)
Prime Minister Narendra Modi met Chinese President Xi Jinping on the sidelines of the BRICS summit in Xiamen, China .
Acknowledging that healthy and stable ties between India and China are imperative for the stability of the region, the Chinese president said, "China and India are each other major neighbours. We are also, at the same time, two of the world's largest developing and emerging countries. Therefore, healthy and stable relations serve the financial interests of the people of both countries and the shared expectations of the regional and world community."
"China is prepared to work with India to seek guidance, with the five principles of Panchsheel i.e. mutual respect for each other's territorial integrity and sovereignty, mutual non-aggression, mutual non-interference in each other's internal affairs, equality and cooperation for mutual benefit, and peaceful co-existence," the Chinese President said, during his bilateral meet with Prime Minister Narendra Modi.
Prime Minister Modi said, "I congratulate President Xi Jinping and his team for the successful execution of the BRICS Summit."
"The BRICS Summit has been successful in addressing the challenges of the rapidly changing global scenario," Prime Minister Modi added.
The Chinese President said, "For the past couple of days we have had in-depth exchanges and broad consensus on the BRICS cooperation and on regional and global issues."
"China stands ready to work with all member countries of BRICS so as to jointly usher in new prospects of mixed cooperation," President Jinping added.
Extending warm welcome to Prime Minister Modi, the Chinese President said, "I would like to extend warm welcome to Prime Minister Modi for attending the ninth BRICS summit in Xiamen, China."
The above-mentioned Panchsheel treaty was former prime minister Jawaharlal Nehru-proposed agreement between India and China. It was signed on 29 April, 1954.
-ANI