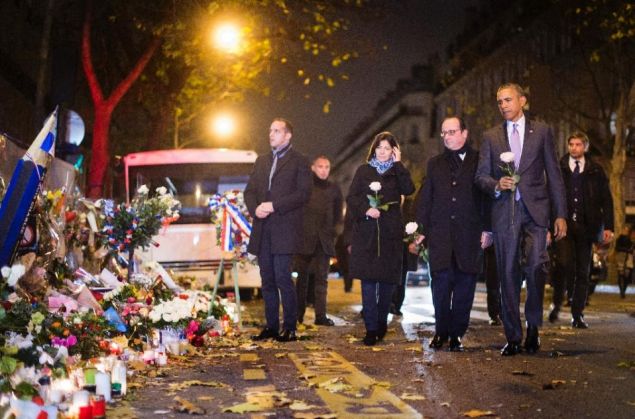 US President Barack Obama paid tribute to the victims of the Paris attacks shortly after arriving in the city for COP21 Summit.
He visited Bataclan, the concert hall where major attacks took place during the onslaught by ISIS affiliates.
He is in Paris for international talks to curb climate change joined by various global leaders including China's Xi Jinping, India's Narendra Modi and German Chancellor Angela Merkel.
Also read: #ParisAttacks: France should learn from US mistakes post 9/11
Obma was joined at the Bataclan site by the French president Francois Hollande not long after Air Force One touched down around midnight local time.
According to Reuters reports, he placed a flower at the makeshift memorial and then stood silently, his head bowed and hands clasped in front of him. Afterwards he walked away with his arms around Hollande and Paris mayor Anne Hidalgo, who was also present.
The visit to the Bataclan was announced at the last minute after rallies ahead of the climate talks turned violent, as anti-capitalist protesters clashed with police.
Police fired teargas at protesters, who pelted them with bottles and candles in Place de la Republique where a memorial had been set up for the 130 people killed in the Paris attacks.
More than 200 people were detained. The clashes soured the mood before the start of the talks, known as COP21, aimed at clinching the world's first universal climate deal to limit global greenhouse gas emissions.
Earlier on Sunday, Canadian Prime Minister Justin Trudeau also visited the Bataclan with his French counterpart, Manuel Valls, as did the premier of French-speaking Quebec, Philippe Couillard.
Related: 6 gory facts about suspected Paris attack mastermind Abdel-Hamid Abu Oud
With AFP-PTI inputs