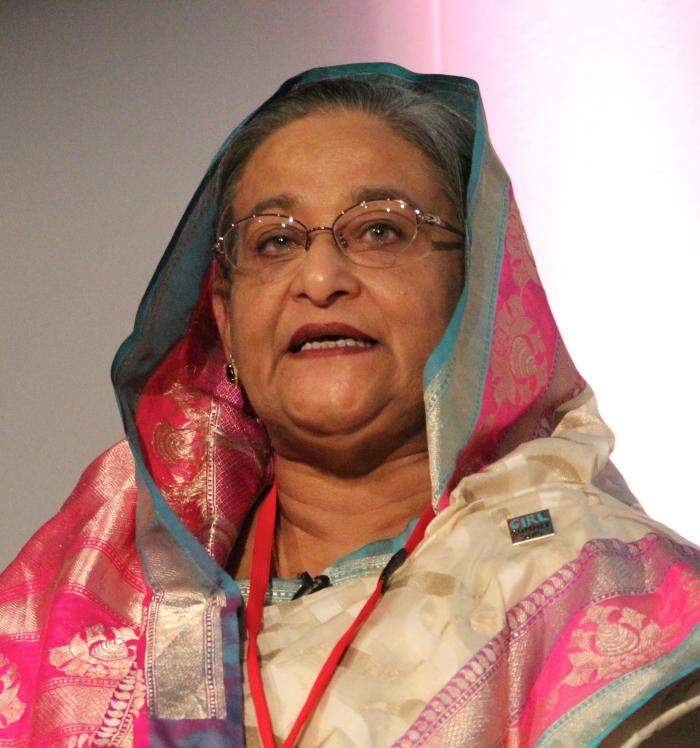 Two top Bangladeshi opposition leaders were hanged night for war crimes committed during the 1971 war of independence against Pakistan after the country's President rejected their last-ditch mercy petitions to escape the gallows.
Fundamentalist Jamaat-e-Islami Secretary-General Ali Ahsan Mohammad Mujahid, 67, and BNP leader Salahuddin Quader Chowdhury, 66, were hanged at Dhaka Central Jail at 12.45 am, a senior jail official who witnessed the execution told PTI.
With Mujahid and Chowdhury's execution, Bangladesh has hanged four war crimes convicts so far.
Jail sources said a seven-member team of hangmen comprising prison inmates carried out the executions.
President Abdul Hamid rejected the mercy petitions of the two top opposition leaders, hours after they had sought presidential clemency in a last-ditch attempt to escape the gallows.
They had sought presidential clemency admitting their guilt.
The prison authorities had called the close relatives of Chowdhury and Mujaheed to see them for the last time.
Bangladesh is on high alert and a huge contingent of security forces has been deployed around the prison.
Paramilitary Border Guard Bangladesh (BGB), elite anti-crime Rapid Action Battalion (RAB), armed police and jail guards erected a several-tier security system stopping vehicular movements in thoroughfares around the prison complex.
On Wednesday, Bangladesh's Supreme Court upheld the death sentences against Chowdhury and Mujahid, who were convicted in 2013 on charges including genocide, rape and torture during the war.
Mujaheed, the second most senior member of Jamaat, was found to be a key mastermind of the massacre of the country's top intelligentsia just ahead of the December 16, 1971 independence war victory.
Chowdhury, a top aide to BNP chief Khaleda Zia, carried out atrocities at his home district of southeastern Chittagong, leading a violent campaign against the Hindus.
After news of the execution broke, supporters of Prime Minister Sheikh Hasina's Awami League took to the streets to celebrate and also unfurled national flags near the prison.
There are fears that the executions could spark fresh unrest in the nation, which is reeling from a string of killings of secular bloggers as well as the murders of two foreigners in recent months.
Jail authorities earlier in the evening called close relatives to see the death row convicts soon after President rejected their mercy petitions.
Ahead of the execution, Dhaka's civil surgeon along with two jail doctors checked their health in line with rules while a cleric administered a special prayer.
After the execution, ambulances escorted by elite anti-crime Rapid Action Battalion (RAB) and armed police came out of the prison complex carrying the bodies.
Sources close to the two leaders' families said Chowdhury would be buried at his village home in Rauzan's Gohira village in Chittagong while Mojahid would be buried at his village home at Poshchim Khabashpur in Faridpur.
Mujahid and Chowdhury were the first war crimes convicts to seek presidential clemency.
Jamaat and Chowdhury's family members had earlier contradicted claims about the mercy petitions calling the media reports "untrue" and "unbelievable".
"The media reports saying that he (Mujahid) has sought the presidential clemency is not true, rather he had sought to consult his lawyers on the matter while meeting the family members two days ago," Jamaat general secretary Shafiqur Rahman had said in a statement.
Chowdhury's son Hummam Quader Chowdhury had told TV channels "we won't believe that he has the sought the clemency until he is allowed to meet his family members and lawyers".
Besides Chowdhury and Mujahid, two other 1971 war crime convicts Abdul Quader Mollah and Mohammad Kamaruzzaman had been executed so far.
Mollah was hanged on 12 December, 2013 while Kamaruzzaman was executed on 11 April this year.
-PTI