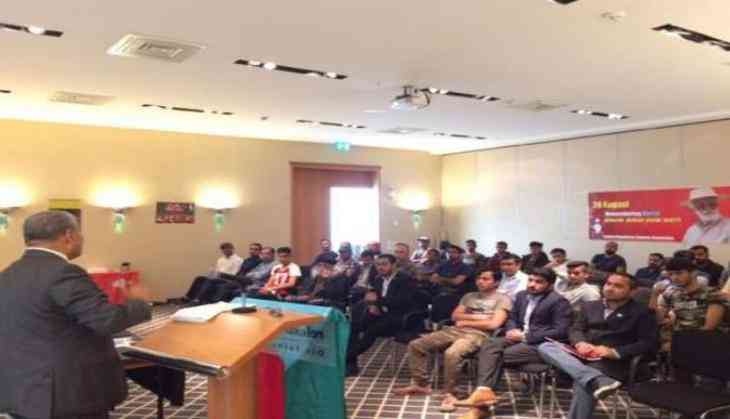 The Baloch Republican Party held shutter down strikes and events across the world, including Balochistan, European countries, United States, South Korea and the United Kingdom on occasion of 11th martyrdom anniversary of 'father of Nation' Shaheed Nawab Akbar Bugti on 26 August.
Baloch Republican Party Spokesman Sher Mohammad Bugti said the events were also held by BRSO in Germany and American Friends of Balochistan in Washington where Baloch leader Nawab Brahumdagh Bugti also addressed the audience through video link.
Bugti said that the world has now acknowleged Shaheed Nawab Akbar Bugti's sacrifice.
"In old age", Bugti said, " Shaheed Nawab Akbar Bugti laid foundation of a practical Baloch struggle for Baloch nation and Baloch land. Shaheed Nawab Akbar Bugti sacrificed his precious life, giving Baloch movement undefeatable strength, which is even after eleven years still continues towards ultimate destination.
"Shaheed Nawab Akbar Bugti never compromised his principles and chose to embrace martyrdom instead of kneeling before the oppressors, which has become source of inspiration for Baloch nation and every other oppressed nation struggling against the subjugation and suppression." He said.
Sher Mohammad Bugti said "The state forces tried to disrupt the strike in different part of Balochistan including Dera Bugti and Turbat by torturing and harassing their owners. but failed."
Activists paid tributes to him and vowed to continue Shaheed Nawab Akbar Bugti's freedom struggle to achieve its final destination.
Baloch Republican Party and Baloch Student Organization held awareness campaign at international level in Germany, South Korea, America, Britain, Switzerland, and other European countries. As part of the campaign, Party activists also held a seminar, paid tributes to Shaheed Nawab Akbar Bugti for his struggle and sacrifices during the events.
The spokesman said that BRP workers held Holy Quran Recitation, memorial references, and study circles in Balochistan. including Karachi, Sui and Dera Bugti.
-ANI