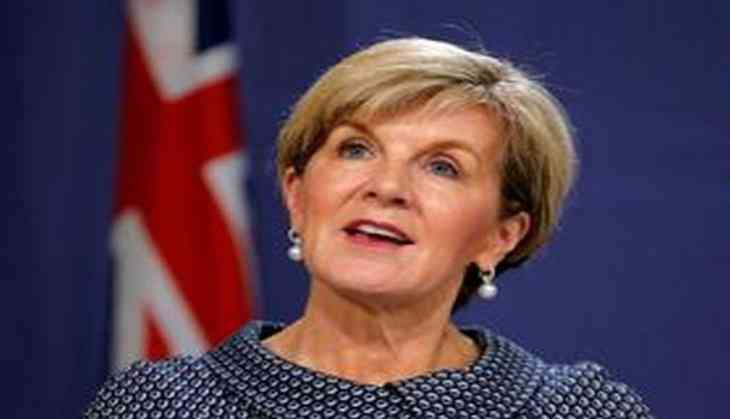 Australian Foreign Minister Julie Bishop
Australia's Foreign Minister Julie Bishop while lauding India's economic reforms said it is necessary for New Delhi to engage in greater international agreements in order to achieve sustained growth.
"Economic growth in India is driven by domestic consumption. While urbanization and expansion of the middle class will continue to spur growth, sustained growth will require greater international engagement," she said, while addressing the second Indo-Pacific Oration here on Tuesday.
Along with this, Julie also highlighted that liberalization of trade is crucial to improve trade relations, which remains more secure in a dynamic environment.
Additionally, liberalisation of foreign investment will also spur trade in the Indo-Pacific, she said.
Welcoming India's 'Look East Policy' and infrastructural collaboration, Bishop pointed out that enhanced connectivity will further help trade and business flourish.
She also lauded the new Goods and Services Tax ( GST) which was rolled out on July 1, stating that the new tax regime, once fully operational, will improve competitiveness and provide higher trade opportunities, apart from improving Indo-Pacific growth prospects.
"If India continues the current growth rate and can ensure inclusive growth, there is a prospect for Indians to move out of poverty within a generation, apart from uplifting Indo-pacific prospects," said Bishop.
Australia is known to be the second-favoured destination for higher education among Indians. Therefore, it has a significant role to play in educating and training the youth of this country, Julie said.
With Indian firms marking their presence in the global IT and biotech domain, Julie believes that India's rise is seen as a positive contributor to peace and stability.
"The Australian government is committed to working with India as an economic partner. To this effect, Australia is commissioning an 'India economic strategy', which will help us understand how India and Australia can work together to cement India as a partner and further strengthen the reform agenda," she said.
Recognising the importance given to the role played by key regional institutions in India, Julie stressed on the importance of promoting and strengthening collective leadership, and to foster the spirit of cooperation.
"In order to strengthen cooperation, India and Australia need to step up bilateral cooperation, and strengthen the East-Asian Summit. To this regard, a trilateral agreement needs to be formulated between India, Australia and Japan, along with strengthening the Indian-Ocean Rim Association (IORA)," she said.
"The international-rues based system is a huge asset for Indo-Pacific. India, like any other country, has a massive stake in the development of Australia," concluded Julie.
Earlier in the day, Julie met with Prime Minister Narendra Modi,who welcomed Australia's joining the International Solar Alliance (ISA), and said the former's membership will provide a great boost to the alliance.
The two leaders also discussed regional and global issues of mutual interest.
Bishop also met Indian External Affairs Minister Sushma Swaraj and discussed about deepening regional engagement, defence and security issues.
Australia's High Commissioner to India, Harinder Sidhu, said the visit places emphasis on India as one of Australia's top economic and security partners.
-ANI