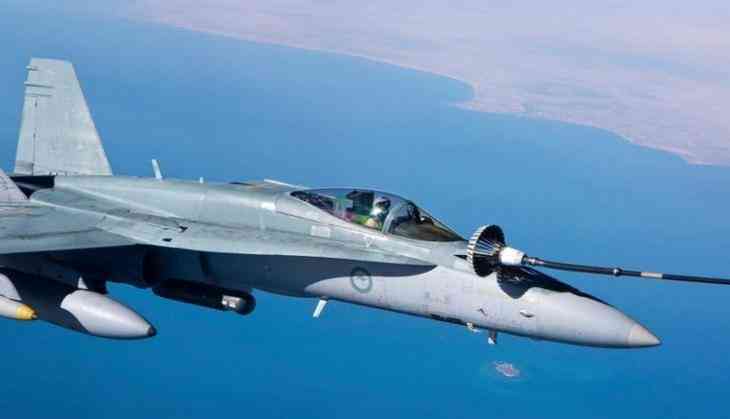 Australia will resume air combat missions against Islamic State targets in Syria after the Australian Defence Force lifted a temporary suspension initially sparked by Russian threats to shoot down coalition planes.
The Australian Defense Force is fighting IS in both Syria and Iraq under the name 'Operation OKRA.' Australian Defence Force Chief Mark Binskin said on Wednesday the operations were halted while the Australians examined what was happening in what he had described as a "complex piece of airspace" over Syria.
"Australian force protection is uppermost in our minds" in deciding when to resume missions over Syria.The fighter jets had been occupied recently supporting Iraqi security forces in retaking the city of Mosul, so the suspension had little effect on their operations, The Guardian quoted defence minister Marise Payne, as saying.
Australia had suspended air strikes over Syria 'as a precautionary measure' after Russia threatened that it would consider any plane from the U.S. led coalition flying west of Euphrates as potential targets.
The threat was seen as retaliation for the U.S. downing of a Syrian air force jet, as tensions in the region rose.
The Australian Defence Force (ADF), which includes about 780 personnel, including 300 service members working in its air group, has announced it would resume airstrikes against Islamic State targets in Syria and Iraq.
Australia has six fighter jets based in the United Arab Emirates that strike targets in Syria and Iraq. Australia said its sorties in Iraq would continue as part of the coalition.
Australian defence force personnel are closely monitoring the air situation in Syria and a decision on the resumption of ADF air operations in Syria will be made in due course," Guardian quoted the spokesman for the Department of Defence .
The tensions between Moscow and Washington escalated after United States Navy F-18 attacked Syrian Su-22 government warplane on Sunday, which was carrying out operations against the Syrian Democratic Forces (SDF) positions south of Tabqah.
Consequently, the Russian military halted cooperation with its U.S. counterparts in the framework of the Memorandum on the Prevention of Incidents and Ensuring Air Safety in Syria.
The U.S. military failed to use the communication line with Russia concerning this attack, despite the fact that Russian warplanes were also on a mission in Syrian airspace at the time, the Russian Defense Ministry said.
Russia's defence ministry said the U.S. had given it no warning, following which Moscow was also suspending coordination over "de-confliction zones" that were created to prevent incidents involving US and Russian jets engaged in operations in Syria, reports the Guardian.
However, the Pentagon states that the Syrian jet had dropped bombs near U.S. partner forces involved in the fight to extract Raqqa from Islamic State (ISIS) control.
-ANI