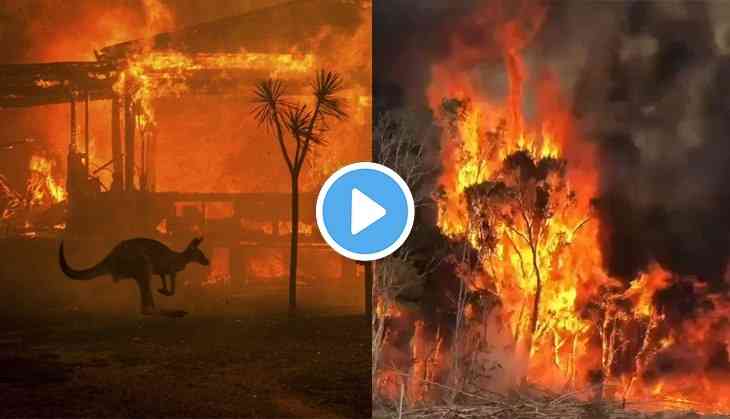 There is chaos in Australia from the past four months and the skies in the country have turned red because of the wildfires in the country. The bushfires have burned nearly 5 million hectares of land, including over 480 million birds, animals, and reptiles, Ecologists from the University of Sydney said.
Australia witnesses the hottest and driest season this year with the temperature reaching almost 50 degrees Celsius last month. In addition to the casualties, fires have destroyed more than 1,300 homes as well as millions of acres of bushland.
The bushfires have also affected the wildlife of Australia. As per reports, over 8,000 koalas, which is approximately 30 percent of the total population in NSW's mid-North Coast region.
The bushfires are also having an extreme effect on the wildlife of Australia. According to reports over 8,000 koalas, which is approximately 30 percent of the total population in NSW's mid-North Coast region have been lost to fire.
Several distressing videos and pictures have surfaced the Internet which has depicted the catastrophe in the country and also how wildlife has been affected because of the wildfires in Australia.
Have a look at heartbreaking visuals of Australia wildfires:
"This is our war! This fire is Australia's war at the moment!"
– Joy Robin, in Eden #bushfireaustralia #AustraliaBurns #AustraliaOnFire #AustraliaFires #DearYourMajesty #ScottyFromMarketing #australiafire #AustralianBushfires #ProMo #auspol pic.twitter.com/vHbqcktuFm

— Dave Earley (@earleyedition) January 6, 2020
Video of the year 💔

Kangaroo can't stop hugging the volunteer who saved her life❤️

No beauty shines brighter than that of a good heart... #AustralianWildFires #Australia pic.twitter.com/nSQRN6Chjq

— Jenny Mandy Williams (@70jennywilliams) January 6, 2020
The fires here in Australia are so awful, it's hard to find someone that's not effected by them in someway.
Over 6.3 Million hectares (24,000 sq mi) burnt so far
2500 buildings destroyed
500 million+ animals have died
25 lives lost
Thousands evacuated#AustraliaBurns pic.twitter.com/W64JxlvNyN

— James Turner (@JamesTurnerYT) January 5, 2020
Hell on Earth!
PRAY FOR AUSTRALIA#AustraliaBurns
ctto: WavoVape pic.twitter.com/ct5RJ6bEgN

— Noel Aquino (@NoelFAquino1) January 5, 2020
Most people don't think climate change will happen to them. But the truth is, it's happening now and it's affecting us in many more ways than we know.pic.twitter.com/rPlsG8J2fw#Tiredearth #AustralianFires #AustralianBushfire #AustraliaBurns #AustraliaBushfires #AustralianWildFires

— Rebecca Herbert (@RebeccaH2020) January 5, 2020
do you see how fast these monsters go up?? what we have to live through looks like an apocalypse. as i'm writing this i hear sirens and water bombers. please spread awareness, donate if you can, you're saving people's lives. #AustraliaOnFire #AustraliaFires #AustraliaBurns pic.twitter.com/TrdLa7L7el

— grace (@yugyumies) January 6, 2020
⠀
Heartbreaking habitat devastation in Australia. Grateful for all firefighters and first responders helping! #PrayForAustralia#Australia #AustralianFires #AustraliaBurns #PrayForAustralia #AustraliaOnFire #Koalas pic.twitter.com/kFNAFByUu0

— Feliz Worldwide News (@felizworldwide) January 6, 2020
Nobody has your back like your MOTHER
-Love her while she is here
-spend time with her
MOTHER: she didn't leave u when u
were young, so don't leave her
When she is Old
Nothing is more painful thn tears 😢in her eyes
God 🙏Pls protect ALL animals#AustraliaBurns 👇🐼 🙏 pic.twitter.com/1lU1wTXE65

— Queen (@queen19435793) January 5, 2020
A spine-chilling photo of a burnt baby kangaroo stuck to a barbed-wire fence in Adelaide Hills has surfaced online which made us depressed. The photo was shared by Brad Fleet, a photographer at The Advertiser.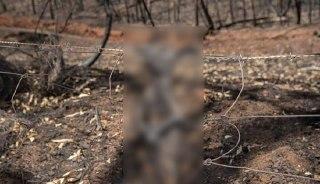 Check out the current status of Australia through this map:
This puts #AustralianBushfiresDisaster into perspective! Do we now understand that we are in a global EMERGENCY! People are dying, animals are literally being burnt alive! What level of disaster needs to happen so world leaders take action? #AustraliaBurns #NSWfires pic.twitter.com/MFpLzj2pX6

— Massin Akandouch (@MAS8IN) January 6, 2020
The reason behind this devastating bushfire is humans which have contributed a lot to global warming.
Also Read: Australia Bushfire: Distressing picture of kangaroo begging teenager for help after being burnt in wildfire