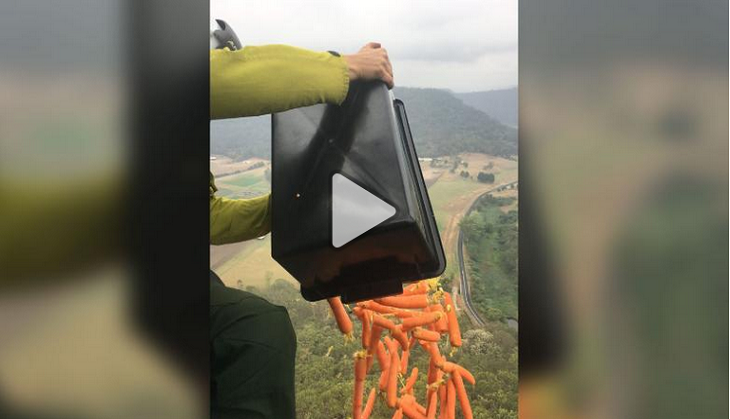 Australia bushfires have destroyed the livelihood of the country. To give some relief to the animals who have been rescued from the wildfires, a mission has been launched by the New South Wales (NWS) government named Operation Rock Wallaby.
Under this mission, the brush-tailed rock wallabies affected by the fires are fed as a part of recovery post wildfires, according to Matt Kean, minister of energy and environment.
Over 2,000 pounds (1,000 kilograms) of sweet potatoes and carrots have been dropped by the officials in the last week, Kean said.
Operation Rock Wallaby 🦘- #NPWS staff today dropped thousands of kgs of food (Mostly sweet potato and carrots) for our Brush-tailed Rock-wallaby colonies across NSW 🥕🥕 #bushfires pic.twitter.com/ZBN0MSLZei

— Matt Kean MP (@Matt_KeanMP) January 11, 2020
The minister also said, "The provision of supplementary food is one of the key strategies we are deploying to promote the survival and recovery of endangered species like the brush-tailed rock-wallaby."
Because of the bushfires, the natural food for animals and wallabies has been burnt and then, the stranded were left with limited natural food.
One happy customer 🦘🥕🥕🥕🥕#operationrockwallaby #AustralianFires pic.twitter.com/wtzMgeaX6D

— Matt Kean MP (@Matt_KeanMP) January 11, 2020
"This is the most widespread food drop we have ever done for brush-tailed rock-wallabies," Kean said.
According to Australia's Department of Environment and Energy website, because of the bushfires, 15 species in Australia have disappeared and are now considered threatened. The species are also endangered in New South Wales.
In NSW, nearly half a billion animals have been impacted by the bushfires, according to ecologists at the University of Sydney. In the fires, birds, reptiles, and mammals have been killed.
Also read: Australia Bushfire: Firefighter's 19-month-old daughter wears father's helmet at his funeral