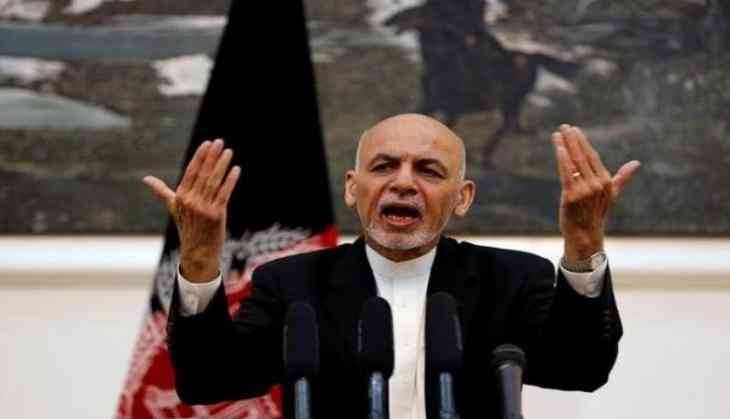 Afghan President Ashraf Ghani (ANI)
Afghan President Ashraf Ghani has called on Pakistan to work together to eliminate terrorism and contain extremism for the stability of the region, while also praising United States President Donald Trump's strategy for Afghanistan and South Asia.
"We now have an opportunity for a dialogue with our neighbours on how we can work together earnestly to eliminate terrorism and contain extremism. Now, we call on all of our neighbours, near and far, to join us through the Kabul process in our comprehensive quest for peace and regional stability. I call upon Pakistan to engage with us on a comprehensive state-to-state dialogue on peace, security and regional cooperation leading to prosperity," Ghani addressed a conference at the United Nations headquarters in New York.
Ghani appealed to the international community to change their perspective regarding Afghanistan's problem.
"For too long, the conflict in Afghanistan has been viewed through the prism of civil war. But this war is not within our soil, it is over our soil," he said.
"Today, there are over 20 international terrorist groups operating on the Afghan soil. The future of Afghanistan matters, because we are on the frontlines of the global effort to eradicate the threat of terrorism."
"U.S. President Donald Trump's new Afghan strategy sent a signal to the Taliban guerrillas that they cannot win on the field and must negotiate peace. The Afghan people have looked to the United States for this type of resolve for years. With President Trump's recent announcement of his strategy to counter terror and stabilise South Asia, Afghanistan's enduring partnership with the U.S. and the international community has been renewed and redirected," Ghani added.
Citing an example that the Afghan government is committed to peace as demonstrated by the peace agreement with Hizb-i-Islami, Ghani said, "Sixteen years after the tragedy of September 11, the threat of violence by non-state actors has taken the form of a Fifth Wave of political violence. Driven by transnational terrorist networks, criminal organisations, cyber-crime and state sponsorship of terror, this Fifth Wave promises to be a decades-long threat to the international security rather than a passing phenomenon. In the 20th century, the world came together to push back the spread of fascism, so that democratic freedoms could be secured."
"Today, these very freedoms are under attack from global terrorism. Terrorism is not only an attack on human life and basic freedoms, but an attack on the compact of citizenship--an attack on the nation state's relationship with its people which makes democratic societies unique, fair and free. We must confront the threat of terrorism as a united force, and meet it with a long-term solution that matches the long-term agenda of the terrorists themselves," he added.
Ghani also laid emphasis on the Rohingya crisis, saying, "Despite the incorporation of tenets of the Universal Declaration of Human Rights in the constitutions of most countries of the world, the crimes against humanity still occur with painful regularity. The ethnic cleansing of the Rohingya Muslims is especially shocking. Aung San Suu Kyi's lengthy silence was tragic, as our hopes that an icon of human rights would choose principle over power."
The Afghan President also asked the international partners to provide Afghanistan a seat in the Human Rights Committee, saying, "I do welcome the chance for Afghanistan to have a seat on the Human Rights Committee in order to have a more central role in discussions on these important issues. As people, who are still experiencing crimes against humanity - the latest being killing of civilians in the Mirza Ulang village and attacks on mosques in Kabul and Herat, we are keen to add our voice in support of the Human Rights."
Overcoming the destructive and disruptive patterns of change in the 21st century requires collective and coordinated action at the global, regional, national, local and individual levels, Ghani said, adding, "an effective, efficient and respected United Nations is the need of the hour - we must put our 20th century institutions to the test."
"But in today's ever-changing world, the dominant contextual characteristic defining our times is an extreme uncertainty. It is easy to illustrate this uncertainty by looking at threats we are facing to our economies, our security, and our values," Ghani further said.
"There is an emerging consensus that advanced economies have yet to arrive at 'proper growth models' to overcome high unemployment, decreasing income and wealth inequality. The threat of economic crisis, therefore, still hangs over us. If the U.N. did not exist today, we would have to invent it to address the demands of our time," Ghani concluded.
-ANI