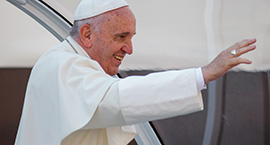 Each Saturday, there's a steam engine that runs from St. Peter's Basilica along Italy's east coast up into the Alban Hills, where the Apostolic Summer Palace stretches above a 6 km-wide volcanic crater, the aquamarine Lake Alban. Since the 16th century, this lavish retreat has served hundreds of popes whenever they were in need of a 'vay-cay.'
However, two years after his consecration, Pope Francis has only been to Vatican City's manor in the hills, Castle Gandolfo, twice. The Castle is fully equipped with a swimming pool, an organic garden, greenhouses, ornate statues, and a gallery with hundreds of portraits of pontiffs past. Now, as Pope Francis is too busy to use it, this entire once-private villa has been thrown open to the public.
If you've ever wondered how popes spend their down-time, well, as of September 11, it's open for the world to see. All you need to do is arrive in Rome and purchase a $45 ticket and you'll be swept away on the same train that's shuttled every pope of the last century (which includes Pope Francis' beady-eyed predecessor, Benedict XIV, who remains a frequent visitor to the estate).